Theater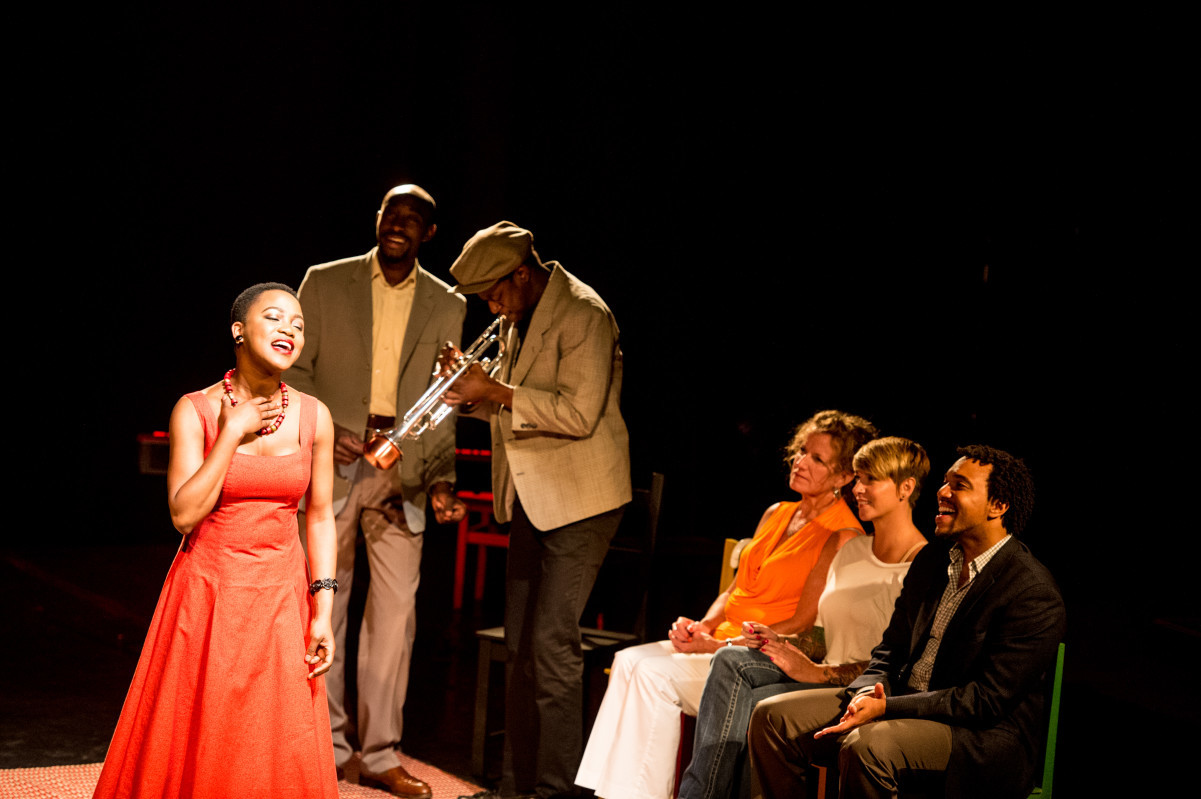 Main Stage
Théâtre des Bouffes du Nord
The Suit
May 22, 2014 at 8:00 pm
May 23, 2014 at 8:00 pm
May 24, 2014 at 8:00 pm
Appropriate for all ages
Main Stage
Théâtre des Bouffes du Nord
The Suit
May 22, 2014 at 8:00 pm
May 23, 2014 at 8:00 pm
May 24, 2014 at 8:00 pm
The Suit
Théâtre des Bouffes du Nord
Peter Brook, Marie-Hélène Estienne and Franck Krawczyk
Thursday, May 22, 2014
Friday, May 23, 2014
Saturday, May 24, 2014
8pm,
(75min, no intermission)
Tickets: $75
"Spectacular…Unforgettable. This is theatre as it should be."
Based on The Suit by Can Themba, Mothobi Mutloatse and Barney Simon Direction, adaptation and musical direction by Peter Brook, Marie-Hélène Estienne and Franck Krawczyk.
SYNOPSIS:
The story of "The Suit" centers on Philomen, a middle-class lawyer who catches his wife, Matilda in the midst of an affair.  Her lover flees, leaving behind the eponymous garment of the play.  As punishment, Philemon makes Matilda treat the suit as an honored guest, preparing meals for it, entertaining it and taking it out for walks as a constant reminder of her adultery.
The show utilizes three actors and three musicians.  The LA Times review proclaims "every actor moves like a dancer.  Every actor speaks like a singer.   And song pervades all.  Pianist and accordionist, trumpet play and guitarist underscore the production with arrangements of Schubert songs, South African songs, African American blues, "The Blue Danube" and Bach."
Directed and adapted by one of Europe's most respected and visionary theatre and film directors, Peter Brook and his long term collaborators Marie- Hélène Estienne and Franck Krawczyk, The Suit is a music-filled and poignant tale of marital betrayal and resentment with an intimate glimpse of life in apartheid-era South Africa. Written by South African novelist Can Themba, this exquisite work, created in the Paris-based Théâtre des Bouffes du Nord, features innovative staging that integrates live musicians among actors.
Production: C.I.C.T. / Théâtre des Bouffes du Nord
Coproduction: Fondazione Campania dei Festival / Napoli Teatro Festival Italia, Les Théâtres de la Ville de Luxembourg, Young Vic Theatre, Théâtre de la Place – Liège With the support of the C.I.R.T.
Award

SaveSave
SaveSave
SaveSave
SaveSave
Brave New Art in Your Inbox
Sign up for email updates and be the first to know when tickets go on sale.
We'll never share your email with anyone.