Visual Art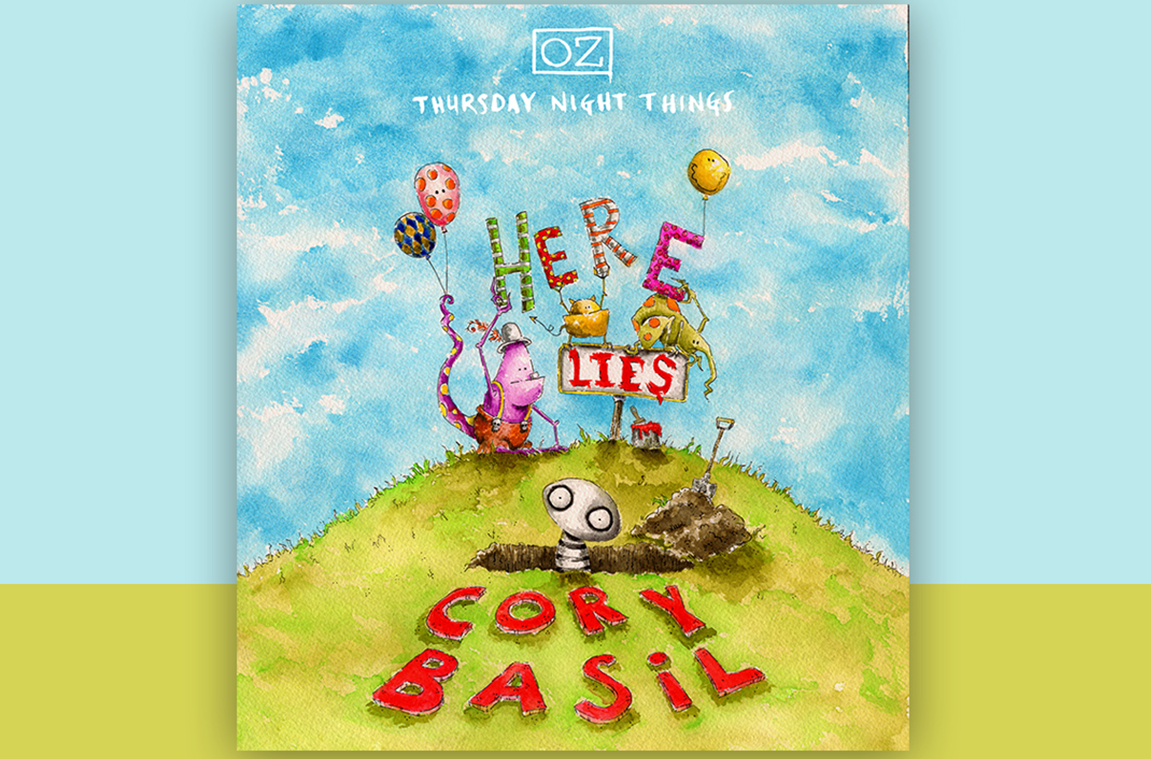 TNT
Cory Basil
Here Lies Cory Basil
July 17, 2014 at 6:00 pm
Appropriate for all ages
TNT
Cory Basil
Here Lies Cory Basil
TNT | Here Lies
 Cory Basil
Cory Basil
July 17, 2014
Doors 5:30pm
Tickets: $5
Since childhood, Cory Basil's startling art works have told touching love stories in comical and macabre ways. In its grand entrance hallway, OZ has installed over 65 works representing various facets of Basil's technique and voice. Some are whimsical; others are more sentimental; all give insight into the artist, who has been remarkably prolific across multiple art forms in his young professional career. The installation will remain on view through August 30, 2014. The collection The Eternal Embrace is inspired by the Lovers of Valdaro, a pair of 6,000 year old human skeletons discovered by archaeologists in Italy in 2007. In Where the Ghost Meets the Muse, Basil explores impressionist techniques, allowing color and deliberate brush strokes to tell the story of ghosts from his past. Like so much of Basil's output, the illustrations comprising The Imagination of Cory Basil leave room for the viewer to imagine his/her own narrative. Six capricious ink drawings are displayed from Skinny Dipping in Daylight, Basil's first published collection of poetry and prose. Also featured are the original versions of watercolors and pencil illustrations, used for the cover and inside, respectively, of Basil's young reader novel The Perils of Fishboy: A Tale Split in Two. (The July 17 event will mark the paperback launch of the book. A limited edition print will be available to all who purchase the novel.)
Basil will use much of the 10,000 square feet of OZ's main interior space, the Grand Salon, for two "cineplexes" that will show dozens of his film animations. Each mini-cinema—one at each end of the room—will hold 32 people at a time, and audience members are welcome to come and go as the animations loop. Sculptures representing the characters from The Perils of Fishboy: A Tale Split in Two will frame each entrance to these animation stations and a third sculpture in the series will stand nine-foot high as a focal point in the warehouse. Basil is creating these sculptures with sculptor and OZ resident artist Brian Somerville.
Celebrated pianist and award-winning singer-songwriter, Brooke Waggoner, to whom The Wall Street Journal has attributed "a surprising, unconventional, sophisticated style of pop" with "specificity and emotional range," will perform live from the Grand Salon. Waggoner will perform original works and accompany Basil during a live reading of excerpts from The Perils of Fishboy: A Tale Split in Two.
About Cory Basil
Cory Basil is an American painter, filmmaker and author. His aesthetic blends gothic romanticism with the post-impressionists' trust in emotional honesty. With a renaissance artist's reverence for color and light, he conjures a world beyond our own—one with the soul of a baroque spectacle. He is a self-taught artist who started experimenting with filmmaking and animation in 2006. He is inspired by stop-motion animation's embrace of imperfection and its ability to imbue self-contained worlds with mood and tone both alien and familiar. In 2011, he created his paper doll animation style, further exploring the juxtaposition of truth hidden within creations, honesty in fiction, and beauty in error.
Basil first brought his distinct style to the public in a 35-piece watercolor and India ink exhibition "Internal Exposure" (2001), in Nashville, Tennessee. The whimsical worldview of the exhibit captured imaginations, and more than half of the pieces were sold within two weeks. Since then, his work has been the focus of six additional exhibitions, including Poetry is Dead (2011, Nashville), which have sold throughout the United States, Canada and Europe.
Paintings feature characters filled with innocence surrounded by an intrinsically unsettling darkness. This innocence of honesty and expression fill his paintings with hope despite darkness, exploration in the face of fear and the lurking danger of true love.
He is the author of poetry and prose books including Skinny Dipping in Daylight (2012), The Perils of Fishboy: A Tale Split in Two (2013) and, most recently, The Shovel & The Hare (2014).
About Brooke Waggoner
Brooke Waggoner has garnered considerable critical praise, and accolades including a 2009 Nashville Music Award for Best Emerging Artist, since the release of her 2007 EP Fresh Pair of Eyes. Her full-length albums include Heal for the Honey (2008), Go Easy Little Doves (2009) and Originator (2013). She was featured on Jack White's recent album Blunderbuss and toured as part of White's band throughout 2012 and the first part of 2013. She will return from her debut tour of China just in time for OZ Art's TNT event with Cory Basil.
About Brian Somerville
Brian Somerville received his BFA from the University of Evansville and an MFA from Florida Atlantic University.  His work consists primarily of entertaining animal figures that carry important social, political and personal meanings.  In his collaboration with Basil, Somerville uses mixed media to create three sculptures of characters from Basil's The Perils of Fishboy. Brian is currently an artist in residence at OZ in Nashville, TN.
Brave New Art in Your Inbox
Sign up for email updates and be the first to know when tickets go on sale.
We'll never share your email with anyone.