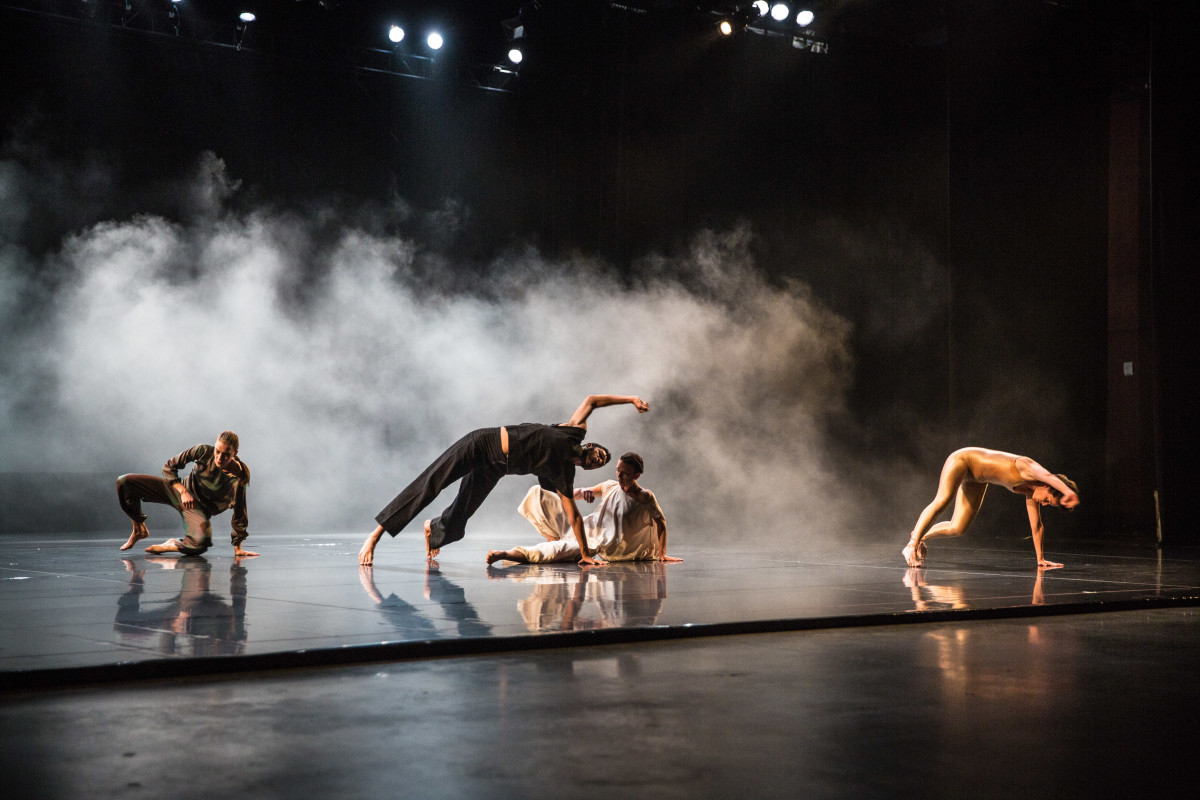 A Retrospective in Three Parts
Trisha Brown Dance Company
Program A
Thursday, May 14, 2015, 8PM
Program B
Saturday, May 16, 2015, 7:30PM
Trisha Brown Dance Co. Masterclasses

May 12, 13: 9am – 11am
"[Ms. Brown's work] is unexpected, virtuosic, funny, arbitrary, subtle, detailed, poetic." –The New York Times
Trisha Brown is recognized as an avant-garde and postmodernist choreographer whose more than forty-year contribution to contemporary dance has made a significant impact on the field. OZ Arts is proud to present two distinct evenings of performance by Trisha Brown Dance Company (TBDC), with works from the late 1960's to 2011. Program A features multiple, iconic works created for the proscenium theatre. Program B employs the manicured grounds of OZ for a series of Brown's "Early Works," then moves into the Grand Salon, which will be transformed into a performance space with seating on two sides of the stage.
In between these two main stage performance evenings, OZ Arts brings a live performance installation, Planes, to Nashville in collaboration with local contemporary dance collective New Dialect and Zeitgeist Gallery.
A film of aerial footage (by Jud Yalkut) is projected on an 18 foot long, 13 foot high wall which has concealed holes spaced at equal intervals across its entire surface. Three performers traverse the surface of the wall in slow motion, giving the illusion of falling through space. -Trisha Brown
Planes is an exploration of the corollaries between psychic space and the psychical escape of consciousness beyond the earths' biosphere. Conceive of the theater as vertical tunnel in which the audience is suspended in planes of rows. The city as centralized magnetic center, whose momentum is perpendicular, becomes the escape valve for a continuous ascent, spanning the poetics of macro- and micro- cosm, culminating in the brief and rapid deceleration of re-entry.
–Jud Yalkut
Zeitgeist Gallery will host the multi-media installation from May 2nd to May 30th, with weekly performances in the installation by New Dialect on Saturday, May 2, 9, 23, & 30 at 11 AM and 6 PM. A special performance evening featuring both New Dialect and TBDC dancers takes place on May 15, 2015.
PROGRAM A

Thursday, May 14, 2015, 8pm
OZ, Indoor
Opal Loop/Cloud Installation (1980)

Newark (Niweweorce) (1987)

Rogues (2011)

PRESENT TENSE (2003)
———————-
PLANES (1968)
Friday, May 15, 2015, 7:30pm
ZEITGEIST GALLERY
New Dialect x 2 dancers + 

Tara Lorenzen

 from TBDC

Q & A with Banning Bouldin (New Dialect), Lain York (Zeitgeist Gallery), Carolyn Lucas (TBDC), and Lauren Snelling
*Zeitgeist Gallery will host PLANES Saturdays, May 2, 9, 23, & 30 at 11 AM and 6 PM. Performed by New Dialect.
dancer listings by date/time below
May 2 – 11am & 6pm Banning Bouldin, Elise Hughes, Clemence Aubier Rosemarie Mientka, Rebecca Allen, Emma Morrison (6pm only)
May 9 – 11am & 6pm Becca Place, Mary Arwen, Emma Morrison Mary Ruth Isbell, Sarah Salim, Hadassah Perry
May 15 – 7:30pm Clemence Aubier, Banning Bouldin, Tara Lorenzen (TBDC)
May 23 – 11am & 6pm Tony Montalvo, Rebecca Allen, Emily Rhyne (11am) Banning Bouldin, Elise Hughes, Becca Place (11am) Mary Arwen, Elise Hughes, Clemence Aubier (6pm) Tony Montalvo, Rosemarie Mientka, Emily Rhyne (6pm) May 30 – 11am & 6pm Mary Ruth Isbell, Hadassah Perry, Sarah Salim Rosemarie Mientka, Rebecca Allen, Emma Morrison
———————-
PROGRAM B

Saturday, May 16, 2015, 7:30pm
OZ, Indoor/Outdoor
In Plain Site (featuring Early Works and excerpts repertory)

You Can See Us (1995)

Son of Gone Fishin' (1981)
Trisha Brown – PLANES (1968)
Visual Design & Choreography: Trisha Brown / Film: Jud Yalkut / Sound: Simone Forti
PLANES
Saturdays May 2, 9, 23, 30
11am & 6pm
Friday, May 15, 7:30pm
Summary
Program A
THURSDAY, MAY 14, 2015, 8PM
Program B
SATURDAY, MAY 16, 2015, 7:30PM
Trisha Brown Dance Co. Masterclasses
May 12, 13: 9am – 11am