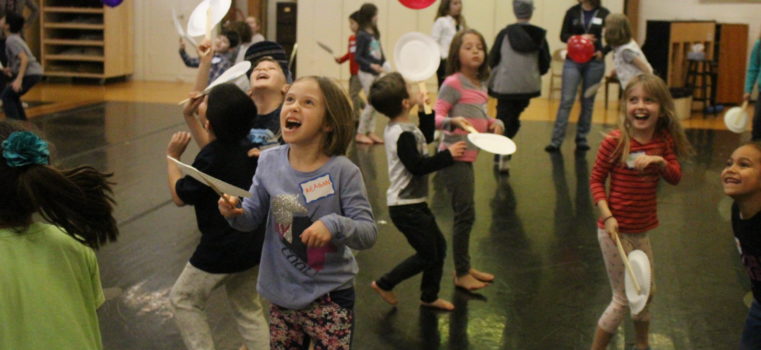 OZ School Days
OZ Arts is pleased to announce our fourth installment of OZ School Days for the 2017 – 2018 academic school year. This daylong multi-arts program engages students ages 5 to 15 at Centennial Performing Arts Studios on days when Metro Nashville Public Schools are out of session. Each date has a unique, contemporary theme that inspires workshops in visual art, theater, music and movement. The students will rotate through workshops led by Nashville-based teaching artists working in their respective disciplines.
Wednesday, November 1, 2017, Parent Conference Day – Theme: Influence
Monday, January 15, 2018, MLK, Jr. Birthday – Theme: Flight
Monday, February 19, 2018, Presidents' Day – Theme: Nature
Friday, March 16, 2018, Teacher Planning Day – Theme: Found Sound
Time: 9:00 a.m. – 4:00 p.m.
Location: Centennial Performing Arts Studios
Registration: $50 per participant
OZ School Days scholarships for those needing financial assistance are available thanks to the generous support from the Hunt Family Foundation.
SCHEDULE
8:30 – 9:00 a.m. –  Drop-off / Registration
9:00 – 9:30 a.m. –  Group Activity #1
9:30 – 9:35 a.m. –   Bell
9:35 – 10:30 a.m. – SESSION #1
10:30 – 10:35 a.m.- Bell
10:35 – 10:45 a.m. – Restroom Break / Snack
10:45 – 11:40 a.m. – SESSION #2
11:40 – 11:45 a.m. –   Bell
11:45 – 12:40 p.m. –  Lunch / Playground
12:40 – 12:50 p.m. – Bell / Put Lunch Boxes Up
12:50 – 1:45 p.m. –   SESSION #3
1:45 – 1:55 p.m. –     Bell
1:55 – 2:05 p.m. –    Restroom Break / Snack
2:05 – 3:00 p.m. –   SESSION #4
3:00 – 3:05 p.m. –  Bell
3:05 – 3:15 p.m. –   Collect Belongings
3:15 – 3:30 p.m. –   Group Activity #2
3:30 – 4:00 p.m. –   Pickup
Music Workshop with Jason Carson
In a one-hour workshop, students learn songwriting basics, express creativity, and write a song with a professional writer. This program introduces song form and reveals secrets behind the creative process through an authentic co-writing experience. The class will work together to create original song lyrics, discussing writing fundamentals and tips throughout the session and the session will conclude with a group performance of the song. 
Jason Carson began his music and performance career at a young age as a Mouseketeer on the Disney Channel's New Mickey Mouse Club. From there he then went on to become a front member of the country band, Shiloh. He has also enjoyed success behind the scenes as a songwriter with his #1 song "Rain" in the Australian market. Jason is currently a staff songwriting coach with the Country Music Hall of Fame's education program,Words and Music. Currently, Jason tours with his wife in their duo The Carsons and they also run an artist development company called Carson Creative where they mentor the next generation of musicians and songwriters.
Movement Workshop with Amanda Cantrell Roche
Reflecting on and playing with the influence of environment, friends, and family sets the foundation for creative engagement in this dance workshop. Students will explore movement and learn building blocks of choreography through a guided warm up. Games such as Awareness Tag, Flocking, and movement on a Continuum will playfully engage students as leaders, followers, and soloists as they discover and invent expressive, non-verbal communication. By the end of the workshop, students working in small groups will create a short dance that expresses transition from one emotional state to another, and influences that help, or sometimes hinder, along the way.
Amanda Cantrell Roche divides her time between dance, writing, parenting, volunteering and working as a teaching artist.  She has been a dance teaching artist for TPAC Education since 2000, conducting aesthetic education residencies for grades Pre-K through twelve. Independently and in collaboration with a team of lead teaching artists, she designs and facilitates professional development for teachers and other teaching artists. Community and service-centered, Amanda has collaborated as an organizer, choreographer or teaching artist with organizations such as Global Education Center, Nashville CARES, Poverty & the Arts and Vanderbilt University, and is a frequent workshop facilitator at Art & Soul Studio. A mother of two, she also birthed and has nurtured Blue Moves Modern Dance Company since 1989 with co-founder Lee Anne Carmack. Her choreography often blends her background in journalism with her passion for social justice by telling stories through movement and recorded words, and in the past two years Amanda has started exploring film as an artistic medium.  Her alchemy is most powerful when she combines a trilogy of her deepest passions:  dance, writing, and social justice. www.amandacroche.com
Theater Workshop with Anna Gorisch
In this theatre workshop, students will explore how we influence each other and how we influence others by playing with physical expression, non-verbal communication, and language. The students will create a short scene in which someone is influenced in a specific way. After reflecting on the events in the scene, the students will revise their original work with the same characters and situation, but this time they will change the outcome, revealing the power of influence and our ability to change our own story. 
Anna Gorisch is a professional actor, a published playwright, a classically trained singer, an enthusiastic student of dance and, oddly enough, an attorney. She graduated from MTSU with a degree in Speech and Theatre with a focus on Theatre Performance. In 2000, her short play, The Individuality of Streetlamps, won the Kennedy Center's National Ten-Minute Play Competition. Since then, she has continued to write, perform, and work with young people. She has only recently returned to Nashville after spending almost a decade in Washington, D.C., where she received her J.D. from Georgetown University Law Center. In 2014, she took a position at a small private school, where she developed an enrichment course in playwriting and quickly realized that her heart belongs to the arts. She is honored to be a part of her first OZ Arts School Day!
Visual Arts Workshop with Brian Somerville
Light Puppets: By combining cardboard tubes, flashlights and original artwork, students can tell wild stories with custom light puppets!
Brian Somerville is a local sculptor that uses a variety of materials to convert his ideas into reality.  Brian earned his Bachelor of Fine Arts from the University of Evansville in Indiana and a Masters of Fine Arts from Florida Atlantic University.  He has a studio in Burns, TN and works with TANK 615 in Nashville.
www.claybeast.com
www.noblebuildinggroup.com
claybeast@claybeast.com
SaveSave