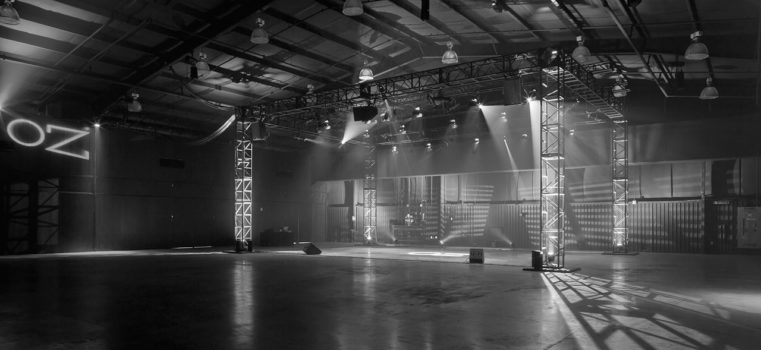 Coming to a performance at OZ Arts? Here's what you need to know!
Where are general admission seats located?
Every seating bank is custom-designed specifically for the production and offers various vantage points. This way, there are no "bad" seats in the house! Open seating enables audience members to select their own seat and make the most of their experience.
Our members (The Critic level and above) enjoy reserved seating, designated by black seat covers. If you are interested in joining OZ Arts as a member, please click here.
What is the dress?
Many of our guests will be in business casual or cocktail attire, however OZ Arts does not strictly enforce a dress code. 
Is this program kid-friendly?
Every program at OZ Arts is vastly different. While our visiting artist programs are not usually designed for children, we have found that many children of varying ages have enjoyed experiencing contemporary art. Ultimately, we encourage parents to do some research and decide if a program matches their child's interests. Of course, feel free to call or email us if you have any specific questions! And, check out some of our education and outreach programs – created just for kids! – here. 
Where should I park?
For the convenience of our guests, a complimentary valet service is provided for all OZ Arts visiting artist performances (TNTs not included – we will have parking directors to help you safely self-park on those evenings!). Valet parking may not be available for all performance events. Please call ahead if you have special needs and require parking assistance.
Oh no! I am running late! Can I still be seated?
Due to the varying nature of our programming, latecomers will be permitted on a case-by-case basis, depending on the requests of the artists.
Do you have snacks and/or drinks?
Wine, beer, spirits, non-alcoholic beverages and light concessions are available for purchase at all OZ Arts artistic programs. We regret that bar and concession sales are closed during performances but will reopen post-show (or during intermission, when applicable). The bar and concession area accepts cash and major credit cards.
Can I get a refund on my tickets if I'm not going to use them anymore?
All ticket sales are final and we are unable to offer refunds. Should you wish to withdraw your enrollment from this event and donate your tickets, you may do so at least 24 hours before the beginning of the performance. The full amount of your contribution may be considered tax-deductible. To request a receipt, please email membership@ozartsnashville.org at least 24 hours before the performance.
May I give my tickets away if I am unable to use them?
Giving your tickets to friends, family, or colleagues is a great way to make sure your tickets don't go unused! If you are a season subscriber who has a conflict with a performance, or you just have a last-minute change of plans, you can always give your tickets to someone else. All you need to do is have your guest give the ticketholder's name at the door and they will be admitted.
What is a TNT event and how are they different from regular artistic programs?
Thursday Night Things (TNT) is an ongoing series featuring Tennessee-based artists in a more casual manner than our visiting artist programs. Feel free to come and go at your convenience, and enjoy onsite food trucks as well as our bar.