Live-Action Graphic Novel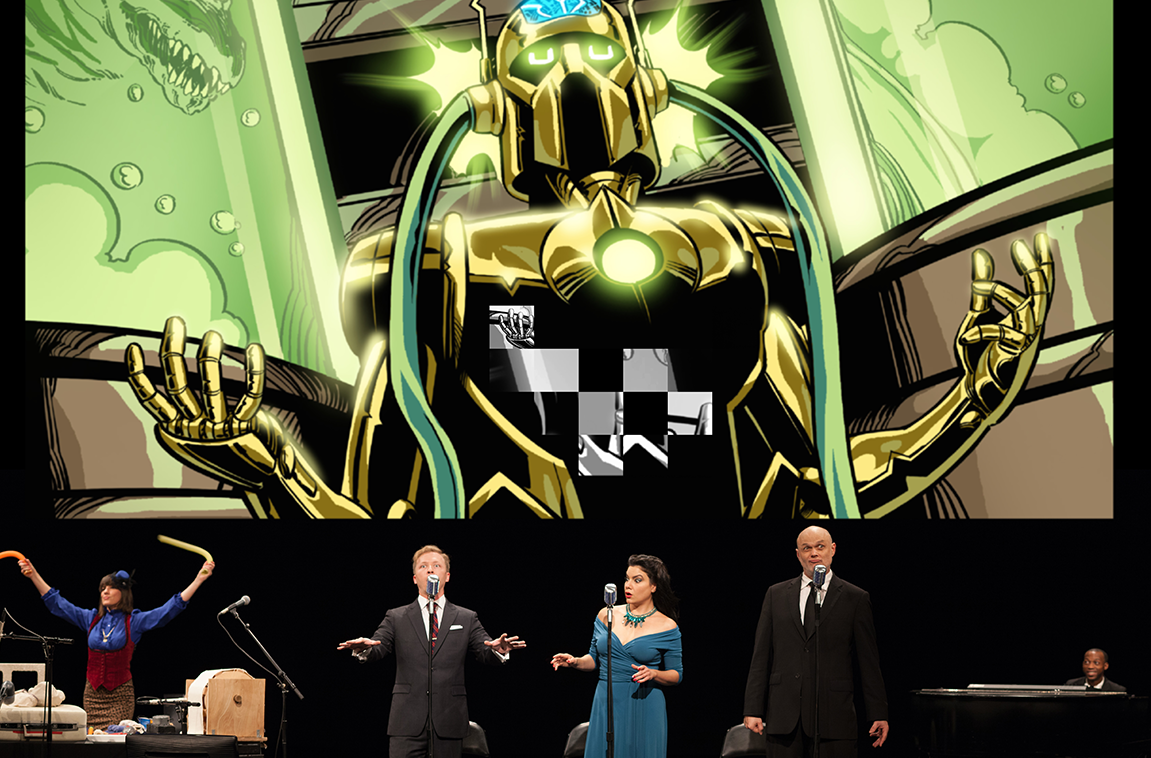 Main Stage
The Intergalactic Nemesis
Robot Planet Rising & Twin Infinity
Robot Planet Rising
April 28, 2017 at 7:30 pm
Robot Planet Rising
April 29, 2017 at 3:00 pm
Twin Infinity
April 29, 2017 at 7:30 pm
Appropriate for all ages
Main Stage
The Intergalactic Nemesis
Robot Planet Rising & Twin Infinity
Robot Planet Rising
April 28, 2017 at 7:30 pm
Robot Planet Rising
April 29, 2017 at 3:00 pm
Twin Infinity
April 29, 2017 at 7:30 pm
The Intergalactic Nemesis
Robot Planet Rising & Twin Infinity 
April 28 & 29, 2017
90 minutes, 20 minute intermission
Produced and Directed by Jason Neulander
"Makes you want to high-five your neighbor in anticipation of the next installment." (Austinist.com).
Robot Planet Rising
April 28, 2017 | 7:30PM
April 29, 2017 | 3PM
*3PM Show Includes ASL Sign-Interpreted Performance*
The year is 1933. The time, two weeks after the conclusion of Target Earth. The place, Robonovia, the Robot Planet. When commander El-Bee-Dee-Oh is lost in space, it's up to Molly Sloan and Timmy Mendez to find him. But when Molly's former fiancé shows up with his assistant (and Soviet spy) Natasha Zorokov in tow, Molly and Timmy discover a plot that threatens not only the very existence of Robonovia, but the safety of Earth itself. Will they uncover the source of the problem? And just who is this robot who calls himself "Alphatron", anyway?
Twin Infinity
April 29, 2017 | 7:30PM
The year is 1942. And it's Pulitzer Prize-winning reporter Molly Sloan's and geneticist Ben Wilcott's wedding day. But Ben hasn't shown up to the altar. When Molly goes to his apartment, she finds him. But it's not him, after all. It's a different Ben. A more bookish Ben. A librarian Ben. So Molly enlists this Ben to help her find the other Ben and, in the process, brings a whole new definition to the word "love."
*No Previous Intergalactic Nemesis Experience Needed*
Three actors voicing dozens of parts, switching accents and characters between breaths. A Foley Artist making hundreds of sounds live as the story unfolds, from train whistles to spaceship explosions. A talented pianist improvising the entire exciting, dramatic score. And more than 1,000 original, full-color, hi-rez, comic-book images blasting from the screen. Are you ready for the adventure…
WATCH THE TRAILER