Theater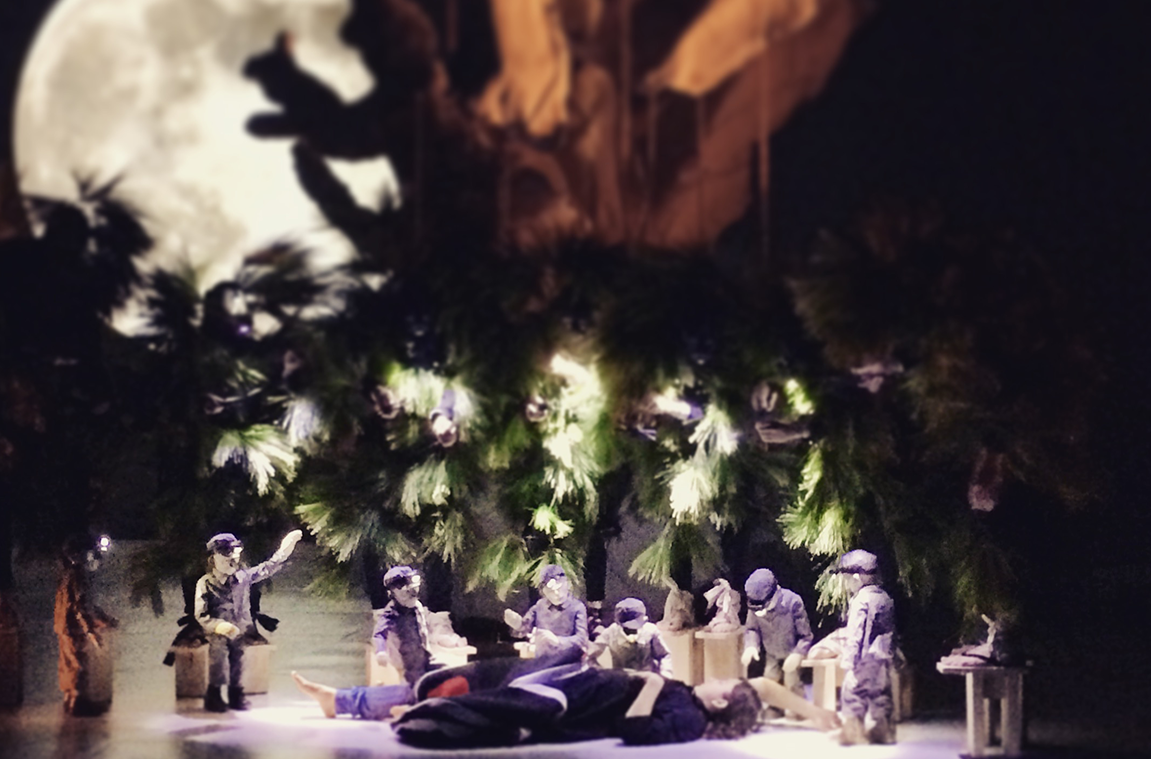 Main Stage
Phantom Limb Company
Memory Rings
June 19, 2015 at
June 20, 2015 at
Appropriate for all ages
Main Stage
Phantom Limb Company
Memory Rings
June 19, 2015 at
June 20, 2015 at
Memory Rings – World Premiere
Phantom Limb Company
June 19 and 20, 2015
JUNE 19, 2015 // SOLD OUT
JUNE 20, 2015 // SOLD OUT
7PM (75min, no intermission)
Memory Rings is a spellbinding journey into the woods of a vanishing past and even more precarious future. By turns meditative and playful, this stunning theatrical collage from the inventive Phantom Limb Company combines fairy tale, fable, puppetry, choreography, original music and striking visual design to chronicle 5,000 years of human and environmental change, all under the watchful gaze of the world's oldest living tree.
Inspired by the "Methuselah Tree," a California bristlecone pine estimated to be more than 4800 years old, Memory Rings is the 2nd installment in Phantom Limb's trilogy of original works about the environment. Its time-bending forest dreamscapes—incorporating everything from the epic tale of Gilgamesh to our penchant for Google searches—chart the humor and hubris of our species, the loss of our identification with the natural world, and the hope that we may yet be able to rewrite our story.
Known for their unconventional approach to storytelling and use of marionette puppetry, New York City-based Phantom Limb Company combines multi-media production design and installation to create a three-dimensional visual landscape on stage. In July 2014, Phantom Limb puppeteers, designers, composers, choreographers, and makers landed in Nashville for a two-week residency. Utilizing OZ's 9,000-square-foot warehouse, the company began the final phase of development for Memory Rings, their second work in a three-part series focused on humanity's relationship to the environment.
Memory Rings will premiere at OZ Arts Nashville in June 2015 and is commissioned by BAM for the 2016 Next Wave Festival, CAP UCLA, and the New York University Abu Dhabi Arts Center. Development residencies provided by OZ Arts Nashville, the Robert Rauschenberg Foundation/Rauschenberg Residency and MASSMoCA in North Adams, MA.
Additional support provided by the Jim Henson Foundation and NewMusic USA. To follow the project as it unfolds, visit the project page:  https://www.newmusicusa.org/projects/memory-rings/
Brave New Art in Your Inbox
Sign up for email updates and be the first to know when tickets go on sale.
We'll never share your email with anyone.