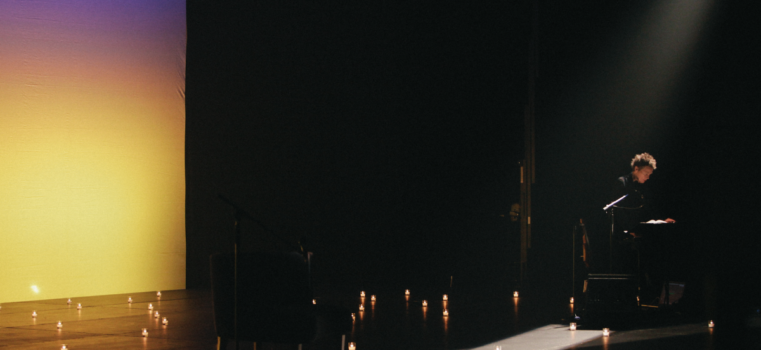 Collection of Songs and Stories Represents the Latest Chapter in 
Anderson's Ongoing Exploration of the American Narrative
Laurie Anderson is widely considered one of America's most consistently daring creative pioneers. The New Yorker has said that her body of work—which encompasses performance, music, film, installation, writing, photography and sculpture—possesses a "a singular perspective that is both haunting and timeless." The Boston Globe has called her "the reigning performance artist of her time." OZ Arts Nashville is pleased to welcome Anderson for two performances of The Language of the Future, the newest installment in her career-long exploration of the American narrative and how we tell it. She will perform the work in OZ Arts' warehouse venue Thursday, March 12, and Friday, March 13, at 8pm. Tickets, $45 – $57.50, can be purchased at www.oznashville.com. OZ Arts Nashville is located at 6172 Cockrill Bend Circle in Nashville.
The Language of the Future is a signature Anderson performance: an exploration of contemporary culture in which she sings, plays violin and spins offbeat adventure stories with wit and poignancy. The work, which takes its name from a piece in Anderson's 1983 magnum opus United States, crosses borders between dreams, reality and the elusive world of information, with topics ranging from airplane travel to Edward Snowden. In addition to new material, The Language of the Future includes a selection of music and texts spanning Anderson's career.
Laurie Anderson has challenged and delighted audiences around the world for more than 30 years. She is best known for her multimedia presentations and for her innovative use of technology. As writer, director, visual artist and vocalist she has created groundbreaking works that span the worlds of art, theater and experimental music. Her recording career, launched by "O Superman" in 1981, includes the acclaimed albums Big Science (1982), the soundtrack to her feature film Home of the Brave (1986), Life on a String (2001) and Homeland (2010). Anderson's live shows range from simple spoken word to elaborate multi-media stage performances. Most recently, she has been touring The Language of the Future and Landfall, a collaboration with another legendary force in new music, Kronos Quartet. Anderson has published seven books. Her visual work has been presented in major museums around the world.
##
OZ Media Contacts
Nashville press, please contact Amy Atkinson at Amy Atkinson Communications, 615.305.8118 or amy@amyacommunications.com.
National press, please contact Blake Zidell at Blake Zidell & Associates,
718.643.9052 or blake@blakezidell.com.