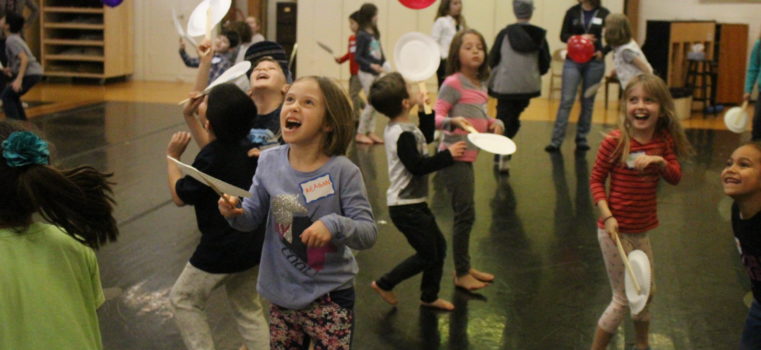 OZ School Days: Presidents' Day
Monday, February 20, 2017 from 9:00 AM to 4:00 PM
Theme: Memory
Centennial Performing Arts Studios
(211 27th Avenue North)
This daylong multi-arts program engages 5 to 15 year-old students at Centennial Performing Arts Studios on days when Metro Nashville Public Schools are out of session on public holidays. Metro Parks' Centennial Performing Arts Studios are located in the 27th Avenue North and Poston Street corner of Nashville, Tennessee's beautiful Centennial Park.
Each date has a unique, contemporary theme which inspire the workshops in visual art, theater, music and movement the students will rotate through led by a Nashville based teaching artists working in each of their respective disciplines.
5-8 year olds • 9-11 year olds • 12-15 year olds
The 2016-2017 academic school year is OZ Art's third year of OZ School Days programming.
SCHEDULE:
8:30 – 9:00 a.m.           Registration + Drop off
9:00 – 9:30 a.m.           Group Activity #1
9:30 – 9:35 a.m.            BELL
9:35 – 10:35 a.m.          Session # 1
10:35 – 10:40 a.m.       BELL
10:40 – 10:50 a.m.       Restroom Break + Snack*
10:50 – 11:50 a.m.       Session #2
11:50 – 11:55 p.m.        BELL
11:55 – 12:55 p.m.        Lunch* & Playground
12:55 – 1:00 p.m.         BELL
1:00 – 1:30 p.m.           Group Activity #2
1:30 – 2:30 p.m.           Session # 3
2:30 – 2:35 p.m.           BELL
2:35 – 2:45 p.m.           Restroom Break + Snack*
2:45 – 3:45 p.m.           Session # 4
3:45 – 4:00 p.m.           Pick-Up
*Please provide your child with a nut-free lunch & snack for breaks*
 Tickets:
WORKSHOPS
Movement
INSTRUCTOR -KATHRYN WILKENING 
Kathryn Wilkening is currently the Dance Division Supervisor for Metro Parks and oversees Centennial Youth Ballet as well as recreational dance classes for adults and children at community centers throughout Davidson County. Before coming home to Nashville in 2013, she worked at the 92nd Street Y in New York, where she served as manager of the 92Y Harkness Dance Center and then as assistant director of 92Y's Dance Education Laboratory, a professional development program for new and experienced dance educators. While working with DEL, she was on the steering committee of the Arts Achieve project, funded by an Investing in Innovation five-year grant, partnering with Carnegie Hall, Cooper-Hewitt, Studio in a School, Arts Connection and the New York City Department of Education to assess and improve arts achievement of students in elementary, middle and high school and measure the impact of higher arts achievement on other subject areas. She currently serves on the editorial board of National Dance Education Organization's new journal, Dance Education in Practice, and keeps up her teaching chops in her Creative Movement class for budding dancers ages 3-4 ½.
MOVEMENT WORKSHOP
How often do we remember things 100% accurately? In Kathryn's workshop, students will use the unreliable nature of memory to find some surprises in choreography and create new and unexpected dances.
VISUAL ARTS
INSTRUCTOR – MEGAN LITTLE

Megan Little is a printmaker and sculpture artist and is passionate about teaching others how to make art. She received her BA in visual art from Houghton College in NY State and has called Morocco, Canada and the USA home. Her childhood travels influence her art, bringing to it joyful wonder at this vast world we all call home. Megan's art practice is highly creative and bursting with a make-your-own-fun attitude, coming from her upbringing in a tightknit homeschooled family. 
You can find her on the web at www.thingsthatcouldbe.com or posting pictures of art (and cats) on her instagram: meganlittleArt
VISUAL ART WORKSHOP
Students will think about memories and how/why we share them by creating their own scroll book to share a fun memory. Students will begin by constructing a scroll book, then they will each finish the sentence "I remember when…" with a fun or humorous memory of something that happened to them or their family or friends. They will then write their sentence in their scroll book and draw pictures and add some simple college elements to tell the rest of the story with pictures.
THEATER
INSTRUCTOR – RACHEL HAMILTON
Rachel Hamilton is an arts administrator, teaching artist and lover of all fun things.  She currently works for Metro Parks at the Theater Supervisor and previously worked as the Associate Director of Education at Nashville Children's Theater.  Learning is a passion she pursues fervently and she loves nothing more than learning from the young people with whom she works.
THEATER WORKSHOP
Making theatre is full of memories. Stories and the characters in those stories are often based in the memories of the playwrights and actors who bring them to life.  In this class, students, working from prompts, will be asked to recall memories through storytelling and, possibly, writing.  Becoming the director of their own memory, students will learn to stage their stories with classmates as the actors, bringing to life meaningful, true to life characters.  We will explore story arc, character analysis and basic staging techniques.  From mind to stage, we'll do it all!
MUSIC

INSTRUCTOR – MELINDA LIO
Melinda Lio is a multi-instrumentalist who received a Bachelor of Arts in music with a focus in piano at the University of Kentucky, where she continued on to finish coursework for a masters in ethnomusicology. Her favorite classes at UK were the world music ensembles: Balinese gamelan, Korean percussion, Thai ensemble, and Chinese ensemble. Her primary Chinese instrument is the pipa, a four-stringed, pear-shaped lute and can be heard performing with the Chinese Arts Alliance of Nashville. In addition to playing music, she teaches piano lessons at W.O. Smith and volunteers with Make Music Nashville.
MUSIC WORKSHOP
In the music workshop, students will warm-up with a rhythm and name game. The main activity will include a discussion of music as related to heritage and life experiences. Students will draw or write about what emotions and/or events they associate with various clips of music, ranging from pipa music, to lullabies, to educational songs (alphabet song), to the national anthem and the birthday song. These activities will encourage listening to music that is familiar and unusual, encourage dialogue on diversity, and to think about how music plays a role in their life experiences and their memories.