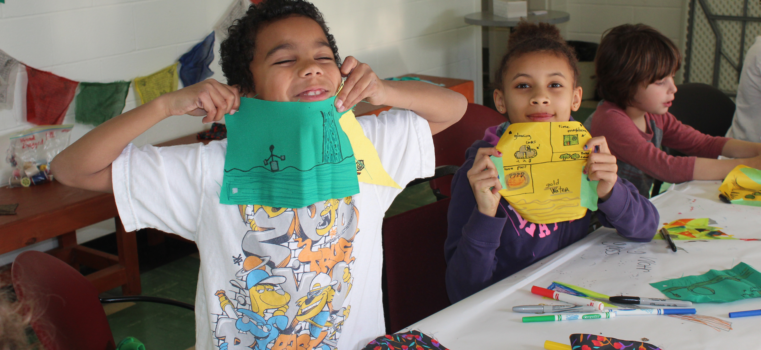 OZ School Days: Spring Break
Monday, March 27, 2017 from 9:00 AM to 4:00 PM
Centennial Performing Arts Studios
(211 27th Avenue North)
Theme: Time
This daylong multi-arts program engages 5 to 15 year-old students at Centennial Performing Arts Studios on days when Metro Nashville Public Schools are out of session on public holidays. Metro Parks' Centennial Performing Arts Studios are located in the 27th Avenue North and Poston Street corner of Nashville, Tennessee's beautiful Centennial Park.
Each date has a unique, contemporary theme which inspire the workshops in visual art, theater, music and movement the students will rotate through led by a Nashville based teaching artists working in each of their respective disciplines.
5-8 year olds • 9-11 year olds • 12-15 year olds
The 2016-2017 academic school year is OZ Art's third year of OZ School Days programming.
SCHEDULE:
8:30 – 9:00 a.m.           Registration + Drop off
9:00 – 9:30 a.m.           Group Activity #1
9:30 – 9:35 a.m.            BELL
9:35 – 10:35 a.m.          Session # 1
10:35 – 10:40 a.m.       BELL
10:40 – 10:50 a.m.       Restroom Break + Snack*
10:50 – 11:50 a.m.       Session #2
11:50 – 11:55 p.m.        BELL
11:55 – 12:55 p.m.        Lunch* & Playground
12:55 – 1:00 p.m.         BELL
1:00 – 1:30 p.m.           Group Activity #2
1:30 – 2:30 p.m.           Session # 3
2:30 – 2:35 p.m.           BELL
2:35 – 2:45 p.m.           Restroom Break + Snack*
2:45 – 3:45 p.m.           Session # 4
3:45 – 4:00 p.m.           Pick-Up
*Please provide your child with a nut-free lunch & snack for breaks*
 Tickets:
WORKSHOPS
Theater Workshop with Lindsay Goranson
Lindsay Goranson is a theatre and film actor who relocated to Nashville from New York City with a background and passion for new and experimental storytelling. Since relocating, she has worked with Reading Academy Vanderbilt, Turnip Green Creative Reuse, and Nashville Public Library to engage young people with the arts in ways that inspire curiosity, sustainability, and innovation.
Students will explore visual collaborative storytelling in a single moment as a foundation for future theatrical experiences. Exercises that focus on the fun of exploring physical awareness, cause and effect, and bold physical choices in storytelling present students with an opportunity to think about telling a story in a new, exciting way that is accessible to students of all ages and skill-levels.
Movement Workshop with Gabrielle Saliba

Gabrielle is the dance director for Global Education Center. She grew up in the Nashville area where she trained at the Nashville School of Ballet. After studying at the Cincinnati College Conservatory of Music, she lived and worked as a professional dancer in the city of Chicago. Since moving back to Nashville, Gabrielle has worked with such organizations as Act Like A Grrrl, Theater Bug, Actor's Bridge, CMT and many more. She believes that if you have a body, you are a dancer. It is her mission to present dance and other forms of movement in a way that is inclusive of all people while instilling a life long love of movement in her students.   
Each group will discuss time as experienced by the individual and as a collective in a manner that is appropriate for their age.  The idea of time and distance will also be explored as well as timing in music and movement. The older students will be asked to consider the body as a time machine moving through past, present and future. 
Each class will start with a fun warm-up and exercises across before moving on to learning a short dance. Then the classes will shift focus into exploring the many elements of time and then applying those findings to creating choreography. Each session will end with the dancers having completed a short dance they have choreographed together followed by a relaxation session that focuses on the idea of the eternal present.
Music Workshop with Mike Teaney

Mike Teaney is a multi-instrumentalist who primarily composes and produces original music. He has a Bachelor's degree in classical guitar performance and also plays the banjo. His album, "The Meantime," is available on iTunes and has pieces which have been featured in television and are a favorite of local dance groups for choreography opportunities. Mike also plays in a free form music ensemble and hosts an event called Free Form Friday at the Centennial Black Box Theater in Centennial Park which features unique and different music as well as some type of visual element. Along with his Bachelor's in Music Performance he holds two Associate's degrees in Electronic Engineering and Recording Arts. Mike was formerly a staff engineer at Seventeen Grand Recording, a professional recording studio on Music Row. He earned many technical album credits and worked with artists including Dolly Parton, The Black Crows, Alison Krauss, and more. Mike also served as front of house engineer for touring artist Steve Azar. This technical background has facilitated his ability to be a "one-stop" shop regarding music production. He can create and compose music as well as record and produce it to a very high standard. 
Time is one of the most essential elements of music.  From rhythm, basic time signatures, the time required to develop a theme through repetition, and even how tempo helps portray emotion – time impacts music on many levels and the upcoming lesson will explore a handful of these.  We will focus on how emotions are portrayed through music's tempo and experiment with different tempos for different emotions.  We will discuss rhythm, subdivision, and explore differences in duple (4/4) and triple meter (3/4) and how those differences impact how music feels.  We will also address how rhythm essentially organizes time in regards to music while we create our own unique rhythmic patterns.  Then we will explore a little bit of music history by listening to "old" music and comparing it to modern music to gain an understanding of how one's time in history influences the music they are familiar with.  Then we will imagine what future music and instruments may sound and even look like.
Visual Art Workshop with Andee Rudloff
Andrea D. Rudloff (Andee) is a consultant, educator and professional artist working in Kentucky and Tennessee. Her goal is to engage community through creative opportunities and she does so frequently through murals, exhibitions, greenway planning and interactive opportunities. Andee Rudloff is currently serving as the education and arts consultant through Hawkins Partners, Inc. for Dugas Park in Scottsville, KY, while staying very busy as a muralist and curator. In 2015-2016, she was guest curator for the National Corvette Museum's first art exhibition titled Car Part Art featuring over 70 artists from throughout the USA all creating art from car parts following the sinkhole disaster at the museum. She served as the community relations manager, educator and curator at the Frist Center for the Visual Arts in Nashville, TN. Rudloff was the curator of the Nashville International Airport's Arts at the Airport Foundation designing new spaces and organizing exhibitions and performances during a multi-million dollar renovation. She was awarded Best Community Art Energizer by the Nashville Scene. Andee has more than 20 years of experience as an art administrator, curator and professional artist including murals and exhibitions in Nashville, Tenn., throughout the Commonwealth of Kentucky, New York, N.Y., Taipei, Taiwan, and other national and international exchanges.
Street art can be very mysterious yet evoke pride and a sense of place. Just as rural barn murals do; graffiti, street art, and murals have enjoyed an international subculture spanning nearly four decades. With the emergence and popularity of Banksy in recent years, museums and galleries have become interested in which was once considered vandalism. Participants in this class will practice techniques such as stenciling, printmaking, painting, and wheat pasting. Participants are encouraged to bring their innovative ideas as well as personal images and pictures to discover the endless options for assembling and connecting. The goal is to take our different approaches to personal connections and expression in order to create unique designs. Participants will learn new and alternative approaches to both surface and construction. Each participant will leave with new ideas and mural designs.