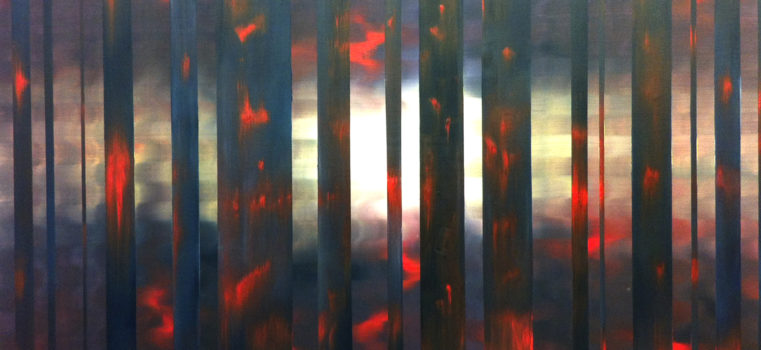 Opening Exhibition and Artist Reception on November 5, 2015 at 6 p.m.
NASHVILLE, TENN., Oct. 20,  2015 – The Red Arrow Gallery will take up residence at OZ Arts Nashville for two months while its new home at 919 Gallatin Avenue is being renovated.  A group show of works by 24 artists has been curated by gallery owner, Katie Shaw, and will be on exhibition at OZ Arts Nashville from November 5 until December 30, 2015, when a new gallery space will open in January 2016.
"We welcome and are grateful for the opportunity to exhibit Red Arrow represented artists at OZ Arts Nashville," said Katie Shaw & Sarah Paul, co-owners of Red Arrow Gallery. "OZ Arts is a cutting-edge artistic venue and has established itself as an indispensable resource for the Nashville community. This collaboration provides Red Arrow with a much-needed outlet during our transition to a new space."
"This exhibition is part of OZ Arts Nashville's Visual Art Gallery, which hosts a rotating schedule of visual artists year-round," said Lauren Snelling, artistic director at OZ Arts.  "When I realized that Red Arrow may have to close during their relocation, I took advantage of this unique opportunity to collaborate with Katie, who is a thoughtful and brilliant curator.  We are thrilled to share space with the over two dozen artists she will include in this exhibition."
Artists participating in the exhibition include:
PAINTING:
Shawn Hall (New Orleans, LA)
Betsy Stirratt (Bloomington, IN)
Cathleen Windham (Nashville, TN)
MIXED MEDIA 2D:
Kate Krebs (Nashville, TN)
Daniel Holland (Nashville,TN)
Alic Daniel (Nashville, TN)
Patrick Adams (Lexington, KY)
William Loveless (Joshua Tree, CA)
Mikewindy (Nashville, TN)
Mary Mooney (Nashville, TN)
Lindsy Davis (Nashville, TN)
Rick Borg (Columbus, OH)
Tanner McGuire (Joshua Tree, CA)
Jerry Phillips (Nashville, TN)
Zach Searcy (Knoxville, TN)
Christopher Bost (Joshua Tree, CA)
Dana Oldfather (Cleveland, OH)
DRAWING:
Julia Smith (Nashville, TN)
Casey Promise (Nashville, TN)
Amy Herzel (Roanoke, VA)
MIXED MEDIA 3D:
Mahwish Chishty (Chicago, IL)
Caleb Groh (Nashville, TN)
VIDEO:
Diane Best (Joshua Tree, CA)
PHOTOGRAPHY:
Sam Aslanian (Napa Valley, CA)
About Red Arrow Gallery
The mission at Red Arrow Gallery is to present museum-caliber exhibitions by local and international artists working in all media. We are particularly devoted to developing and launching the careers of emerging and under-recognized artists at varying stages in their careers. Our goal is to respond quickly to what's happening in the contemporary art scene, to encourage artists to experiment freely, and to educate art enthusiasts and collectors about new work. We strive to create an environment that is both risk-taking and welcoming for artists, collectors, and art appreciators alike.
The Red Arrow Gallery first began in the high-desert community in Joshua Tree, Calif. and gained national and international recognition. The first art gallery to open in downtown Joshua Tree in 2007, the gallery set up shop in an old building marked with a 15-foot red arrow sign (the historic landmark that served as inspiration for the gallery's name and logo). In 2010, with the mind for expansion, the gallery moved to the heart of Joshua Tree Village and continued monthly openings for two more years. In March 2014, The Red Arrow Gallery opened its doors for the first time at their new home in East Nashville, Tenn. 
About OZ Arts Nashville
As the newest 501(c)3 contemporary arts institution in the Midsouth Region, OZ Arts' particular style of programming has begun to transform the cultural landscape of Nashville. Utilizing the venue's flexibility, OZ Arts presents the work of leading artists from around the world, offering an intimate context for performing and visual art programs that challenge and inspire a diverse range of curious audiences.
OZ Arts also serves as a catalyst for local creativity through a program called TNT (Thursday Night Things).  TNT is a quarterly series of unexpected collaborations with Nashville-based artists from varying creative disciplines.  OZ Arts' "blank slate" provides a platform onto which these artists can create, develop and present a one-time-only event that would traditionally not be seen in a visual art gallery or theatre.
OZ Arts is located in the former C.A.O. cigar warehouse owned by Nashville's Ozgener family.  Their generosity provided the seed money that breathed new life into the column-free, 10,000 square-foot space nestled amidst artfully landscaped grounds. 
Since it opened in February 2014, OZ Arts Nashville "has fundamentally changed the creative landscape of Music City" (ArtsNash). Under the artistic leadership of Lauren Snelling, its first two-seasons have brought to the city luminaries such as Philip Glass and Tim Fain, Tim Robbins' The Actors' Gang, Peter Brook's Théâtre des Bouffes du Nord, the Trisha Brown Dance Company, Vijay Iyer, Laurie Anderson, Wayne McGregor's company Random Dance, ETHEL and BANDALOOP. These programs have consistently played to sold-out audiences and local and national acclaim.
http://www.ozartsnashville.org/
# # #
OZ Arts Nashville Media Contact
Amy Atkinson at Amy Atkinson Communications, phone at 615.305.8118, on Twitter at www.twitter.com/AmyAComm or email at  amy@amyacommunications.com