Music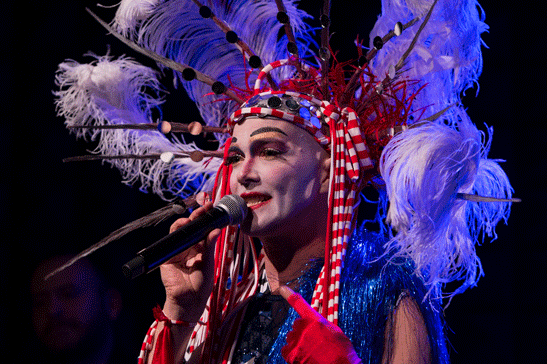 Main Stage
Taylor Mac
A 24-Decade History of Popular Music: 1806-1836
February 19, 2016 at 7:00 pm
February 20, 2016 at 7:00 pm
Appropriate for all ages
Main Stage
Taylor Mac
A 24-Decade History of Popular Music: 1806-1836
February 19, 2016 at 7:00 pm
February 20, 2016 at 7:00 pm
A 24-Decade History of Popular Music: 1806-1836
Taylor Mac
Friday, February 19, 2016 | 7 PM; Doors at 6 PM
Saturday, February 20, 2016 | 7 PM; Doors at 6 PM
180 min / no intermission; audience may leave and re-enter
For Mature Audiences
Taylor Mac "doesn't just defy categorization; he makes the categories themselves seem irrelevant." (Time Out NY)
Details
"An Epic, Sequined Hit Parade"
Read a review of Taylor Mac's Work in the New York Times
Taylor Mac is a performance artist like none other. Playwright, actor, singer-songwriter, cabaret performer, director and producer, Mac has embarked on a mammoth musical journey to chart the 24-decade history of popular music from 1776 – 2016. OZ Arts is honored to present three decades, 1806-1836, and to be one of the leading performance presenters in the country to co-commission this Herculean undertaking. Backed by a 5-piece band, incorporating special guests and leaving no stone unturned in his adaptation, Mac re-interprets history's popular music and totally redefines stage presence.
---
Performance FAQs
Coming to a performance at OZ Arts? Here's what you need to know!
Brave New Art in Your Inbox
Sign up for email updates and be the first to know when tickets go on sale.
We'll never share your email with anyone.