Music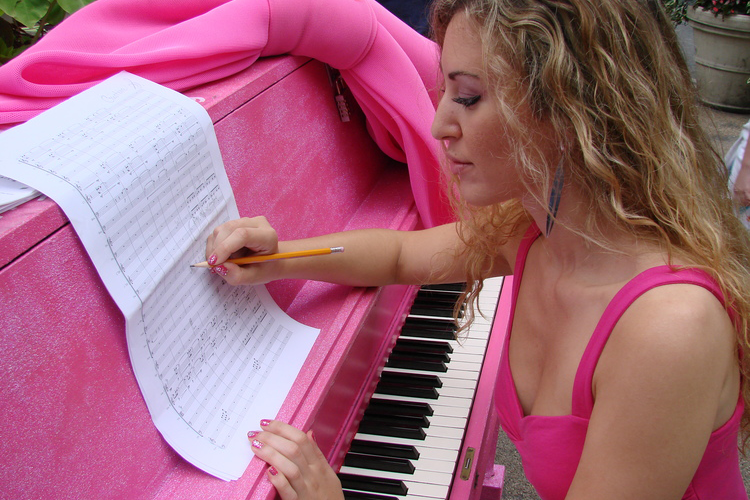 The Artists' Lounge
Cristina Spinei and Sound Riot featuring Blind Ear
February 23, 2016 at 7:30 pm
Appropriate for all ages
The Artists' Lounge
Cristina Spinei and Sound Riot featuring Blind Ear
February 23, 2016 at 7:30 pm
Tuesday, February 23, 2016
7PM; doors at 6:30PM
Admission Price: 
Pay what you can (at the door)
---
Artists
Cristina Spinei and Sound Riot featuring Blind Ear
Cristina Spinei – composer
Colleen Phelps – percussion
Amber Aebly – piano
Emily Tyndall – clarinet
The program will open with Frederic Rzewski – Les Moutons de Panurge followed by Blind Ear.
Cristina Spinei abridged bio (full bio available on her site)
Latin Grammy nominated composer Cristina Spinei (b. 1984) is in demand from choreographers, film directors, and musicians. Her compositions have been commissioned and performed by the Bohemian Trio, Bowdoin International Music Festival, Cadillac Moon Ensemble, Denison University Orchestra, Ebony Strings Quartet, Écouter Ensemble, ETA3 Trio, Gallim Dance, Golden Hornet Project, Kathleen Dyer Dance NY, London Central School, Mary Seidman and Keystone Dancers, the Metropolis Ensemble, MuSE, the National Symphony Orchestra of Uruguay OSSODRE, New York Chamber Music Festival, New York Choreographic Institute, New York Piano Quartet, Pacific Northwest Ballet, St. John's Church, St. Michel Strings, and Treetops Chamber Music Society.
As a co-founder of the group Blind Ear, Ms. Spinei produces interdisciplinary concerts that fuse new technology with contemporary music. Blind Ear has been featured on BBC's radio program World Today, at TEDxGowanus, on YouTube's weekly Spotlight on Music section, at three World Technology Awards ceremonies, and in The Strad.
Blind Ear bio
Blind Ear is a multi-disciplinary performance group founded by composers Jakub Ciupinksi and Cristina Spinei. Blind Ear explores the many layers of inter-disciplinary communication with music structured on loops—short fragments that repeat. Composers control their music by operating laptops that send notated loops to musicians who also perform from laptops. The tempo, dynamics, articulation, and even registers can be altered while the musician is performing. This creates a controlled improvisation that lets the composers change the musical landscape in real-time. With different elements combining live, Blind Ear strives to create a direct communication between composers, musicians, and collaborators.
Blind Ear has been featured at TEDxGowanus, the World Technology Awards, on YouTube's Spotlight on Music, and on the BBC radio program, World Today. They have performed at the Bowdoin International Music Festival, Juilliard's Beyond the Machine Festival, the Brooklyn Lyceum, the cell, and at the Gershwin Hotel in New York. They have collaborated with choreographers Adam Weinert and Andrea Miller and with visual artist Ali Houssaini.
www.cristinaspinei.com
www.BlindEarMusic.com
Performance FAQs
Coming to a performance at OZ Arts? Here's what you need to know!
Brave New Art in Your Inbox
Sign up for email updates and be the first to know when tickets go on sale.
We'll never share your email with anyone.