music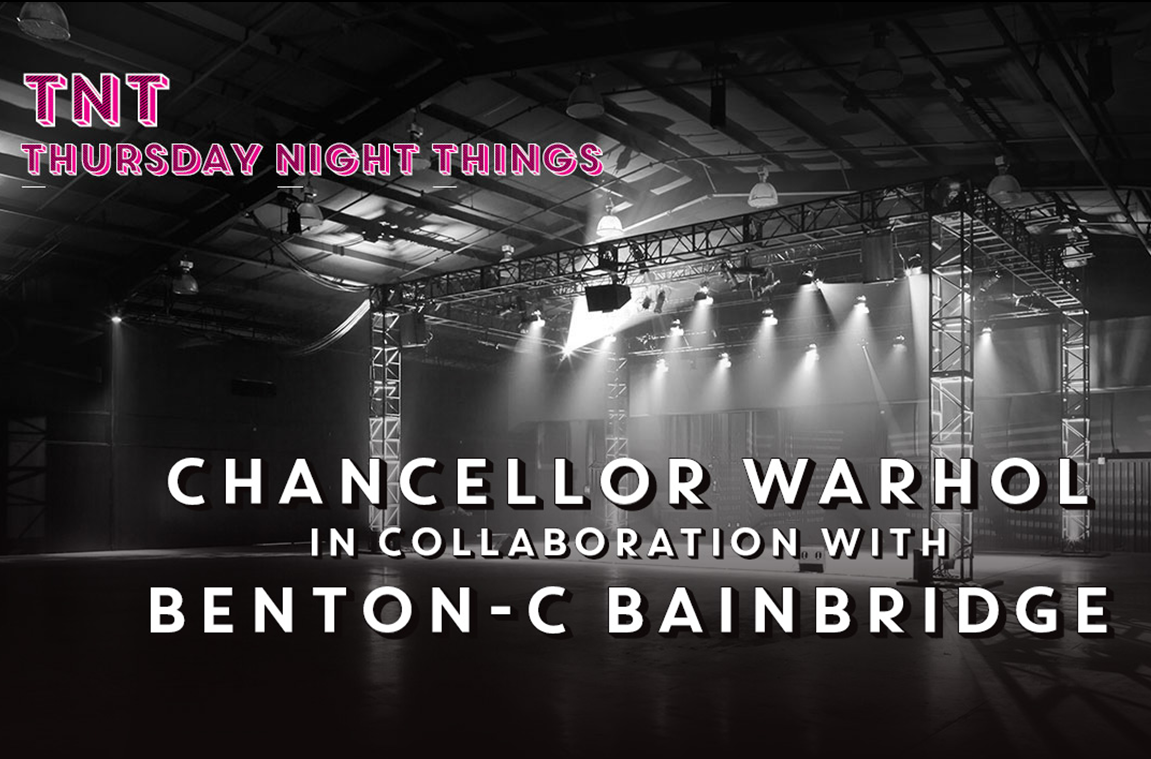 TNT
Chancellor Warhol
Illuminate Paris
February 21, 2014 at 6:00 pm
Appropriate for all ages
TNT
Chancellor Warhol
Illuminate Paris
February 21, 2014 at 6:00 pm
TNT | Illuminate Paris
Chancellor Warhol
February 21, 2014
(POSTPONED TO FRIDAY, FEB. 21ST)
Doors 5:30pm, 
Tickets $5
On his new, forthcoming album, Chancellor Warhol tackles personal themes with an epic sound that mashes up hip-hop, indie electro dance music, addictive hooks, and sharp rhymes. PARIS IS BURNING charts a story of alienation and self-discovery, of getting lost in a foreign place and being inspired by something bigger than yourself. For TNT, Warhol will partner with the renowned media artist Benton-C Bainbridge to translate the sounds and feeling of PARIS IS BURNING into an immersive concert experience. Expect the opulence of Versailles, the romance of the Eiffel Tower, and the glamour of the Paris runways, all coupled with Chancellor Warhol's one-of-a-kind art rap.
About the Artists
Chancellor Warhol (Antonio Dewayne Boleyjack) was born in Nashville, TN. He grew up drawn to art, cinema, fashion and a diverse culture—all of which helped to shape his very own style of music. Channeling an alternative/electro rap style, Warhol released his first solo album titled Japanese Lunchbox in 2010 (Voted Best Rap Album of 2010 by the Nashville Scene). He has gone on to release The Silver Factory (2011) and the Playlist for Edie mixtape (2012), with Paris Is Burning dropping in late 2013..
His unconventional sound has earned him a place on stages such as Bonnaroo, Austin City Limits, Lollapalooza, and Sundance Film Festival. Warhol has also supported several artists including Questlove, Kid Cudi, Kendrick Lamar, LL Cool J, Ice Cube, Chance The Rapper, and Yelawolf. His music has been played on major networks such as ESPN, HBO, MTV, VH1, and the E! Network. With a strong command of his own art, Chancellor Warhol continues to redefine not only music but culture as well.
Benton-C Bainbridge is a media artist based in New York. Working with custom systems of his own design, Bainbridge creates immersive environments, interactive installations and video performances in collaboration with scores of artists around the world.
Bainbridge has shown in venues including the Whitney Museum of American Art, Museum of Modern Art, Lincoln Center, Madison Square Garden, American Museum of the Moving Image, The Kitchen (NYC), EMPAC (Troy, NY), the American Museum of Natural History, SFMoMA (San Francisco), Hirshhorn Museum and Sculpture Garden (Washington, D.C.), Dallas Video Festival, Boston Cyberarts Festival, Mercat des les Flors (Barcelona), LUX2006 (Sevilla), Auditorium Parco della Musica (Roma), Sonic Light (Amsterdam), Wien Moderne (Vienna), Inventionen (Berlin), Teatro Colón CETC (Buenos Aires), CELCIT (Managua), International Horticultural Expo (Xi'an, China), Korean Festival (Seoul), Good Vibrations (Australia), and MTV Networks (global).
Currently, Benton-C Bainbridge is making video portraits. Glowing Pictures (Benton-C Bainbridge and V Owen Bush) launched the Dubspot Visual Performance Program in 2013.
Native Magazine: Media partner for TNT – Thursday Night Things
Brave New Art in Your Inbox
Sign up for email updates and be the first to know when tickets go on sale.
We'll never share your email with anyone.