Music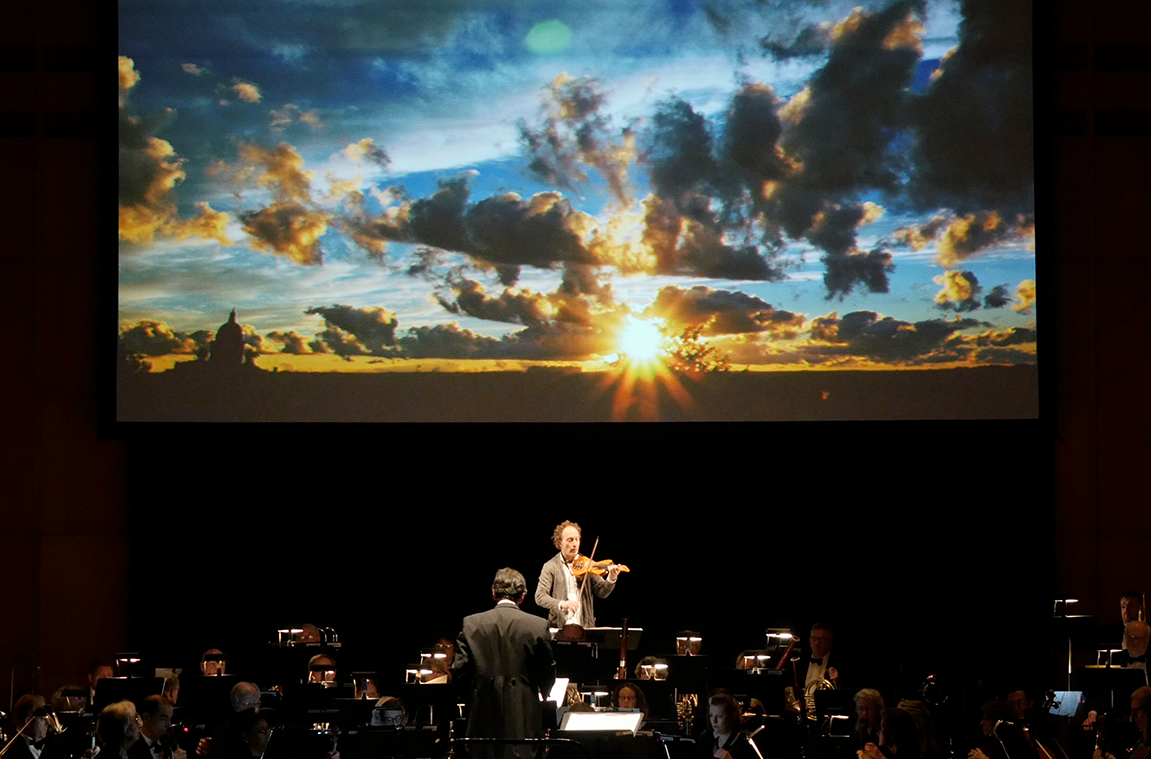 TNT
Tracy Silverman and Vanderbilt University Orchestra
Love Song to the Sun
October 5, 2017 at 7:30 pm
$20 for Adults
$10 for Children 12 & Under
Appropriate for all ages
TNT
Tracy Silverman and Vanderbilt University Orchestra
Love Song to the Sun
October 5, 2017 at 7:30 pm
$20 for Adults
$10 for Children 12 & Under
Appropriate for all ages
"Inspiring. Silverman is in a class of his own." – Mark Swed, LA Times
Love Song to the Sun is an electric violin concerto written by and featuring Tracy Silverman, utilizing interactive projections to tell a story of survival and surrender.
Scored for full symphony and featuring the Vanderbilt University Orchestra – 84 undergraduates from the Blair School of Music – Love Song to the Sun tells the dramatic, autobiographical, one-day life story of a tiny bug, through Silverman's 6-part musical score, with prepared and live interactive video projections by Todd Winkler.  
Albert Schweitzer said, "When man learns to respect even the smallest being of creation, nobody has to teach him to love his fellow man."
Conducted by Robin Fountain, the Vanderbilt University Orchestra will also perform Ralph Vaughan Williams' Symphony No. 5, immediately following Love Song to the Sun.
Love Song to the Sun was co-commissioned by the Anchorage Symphony, Rogue Valley Symphony, Vanderbilt University Orchestra and Brown University Orchestra.
Que Delicias will be on site serving empanadas!

TODD WINKLER BIO
Todd Winkler is a composer and multimedia artist on the faculty at Brown University, where he is Co-Director of MEME (Multimedia and Electronic Music Experiments). His work explores ways in which human actions can affect sound and images produced by computers in multimedia dance/theatre productions, interactive video installations, and concert pieces for computers and instruments. He is the author of Composing Interactive Music (MIT Press, 1998), as well as papers that bridge the fields of music, video art, cognitive science and dance/theatre. Recent commissions include the "Entaglemet Witness" created with Cindy Cummings for the Kilkenny Arts Festival in Ireland, and "Glint," shown at the Bell Gallery at Brown University and at the Perth Institute for Contemporary Art, Australia. 
This program supported in part by Tennessee Arts Commission, The Danner Foundation and Metro Nashville Arts Commission.
GALLERY

LOVE SONG TO THE SUN TRAILER

SaveSave
SaveSave
Brave New Art in Your Inbox
Sign up for email updates and be the first to know when tickets go on sale.
We'll never share your email with anyone.