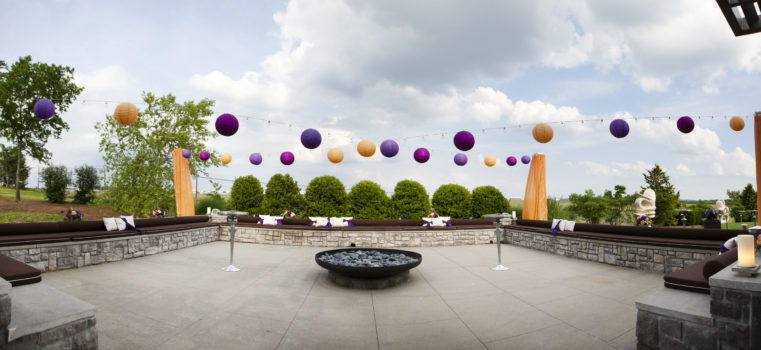 About the Venue
Tucked away in West Nashville, OZ is a contemporary space that has been designed to house modern art installations and host the city's most elite events.  Located in the former headquarters of CAO Cigars and owned by brand founders, the Ozgener family, OZ has been deemed by Nashville Former Mayor Karl Dean as, "the hidden jewel of the city."
OZ features five distinctly unique spaces for truly memorable events.  From the dramatic Ultra Lounge Patio with retractable glass doors, majestic views, and romantic fire pit area, to the magically peaceful Zen Garden with exotic foliage–OZ contains one-of-a-kind spaces to create unforgettable moments.  The venue also boasts one of the world's largest walk-in cigar humidors, The Escaparate, which held over 100,000 premium cigars.  The 9,000 square-foot Grand Salon provides a sizable blank canvas to create the original environment you envision accommodating up to 850 people.
OZ prides itself on its staff of creative, helpful, and customer-friendly people.  Our team will provide you with attentive, one-on-one service and has a variety of professional resources at your disposal.  Our goal is to assist you in creating an event they soon won't forget.
Contact us at myevent@ozartsnashville.org to arrange a private tour and imagine the possibilities.
Reviews
OZ Accolades
Nfocus: 2013 Best New Venue
Nashville Scene: 2014 Best of Nashville's Best Event Space
Frequently Asked Questions
What is included with the rental fee?
All events include the use of the contracted, specified OZ space(s) for a (12)-hour period.  The rental fee also includes an event coordinator/venue manager, basic market string lighting, (1) security guard, and cleaning fee.
What are the rental times?
The rental times are in 12-hour increments and are typically between the hours of 12:00 noon and 12:00 midnight.  Other arrangements may be made if agreed upon by your booking contact.  If you require additional rental times day of, this can be arranged for $250.00/hour. 
Can I bring in outside catering and alcohol?
To simplify your planning process, OZ has cultivated an extensive, exclusive caterers list to choose from. These vendors have gained our respect over many events and years as industry leaders and will make your event as seamless as possible. Our diverse list of caterers will assist in customizing your menu to reflect your personal tastes and budget.
OZ Events, LLC holds a State of Tennessee Alcohol Beverage License. The Tennessee Alcoholic and Beverage Commission regulates the sale and service of alcoholic beverages. All alcoholic beverage service is provided exclusively by OZ Events. No outside or donated alcohol is permitted. Bar Service packages are available upon request.
Do you have a list of exclusive vendors?
Yes, we have a list of exclusive vendors. See below. 
VENDORS
EXCLUSIVE PARTNERS: vendors who are the sole provider of a particular service; all of which are managed by your OZ event coordinator. 
Parking Management Company is the exclusive valet company at OZ.

 

Valet parking is required for events with more than 100 guests unless utilizing a shuttle service.
OZ provides customized lighting options for you. Clients can choose between lighting packages or create customized packages of their own.
OZ is the exclusive provider of bar service.
Do you require valet parking?
We require valet parking or a shuttle service for events with more than 100 attendees. We have a total of 58 striped parking spaces available at OZ. Your OZ event coordinator will arrange these services at the clients cost.
Do you offer more services and/or management?
OZ provides on-site venue coordination and management that is included in your venue rental fee. We are happy to provide our resource of professional planners to assist clients in creating and executing the vision of your event.
What is your smoking policy?
Only cigar smoking is allowed in the Lounge and Patio areas.  If you feel that your guests will need a smoking "area" you may arrange this with your OZ event coordinator. Cigarette smoking is highly prohibited unless otherwise arranged. 
Directions
Address
6172 Cockrill Bend Circle
Nashville, TN 37209
Route
From 1-40, take Exit 204A to merge onto TN-155N Briley Parkway
Take Exit 26B for Centennial Boulevard West
Merge onto Centennial Boulevard
Centennial Boulevard turns slightly right and becomes Cockrill Bend Boulevard
Once you pass the John C. Tune airport, travel exactly .5 miles
Turn right onto Cockrill Bend Circle
OZ will be located .3 miles on the right hand side of the road