visual art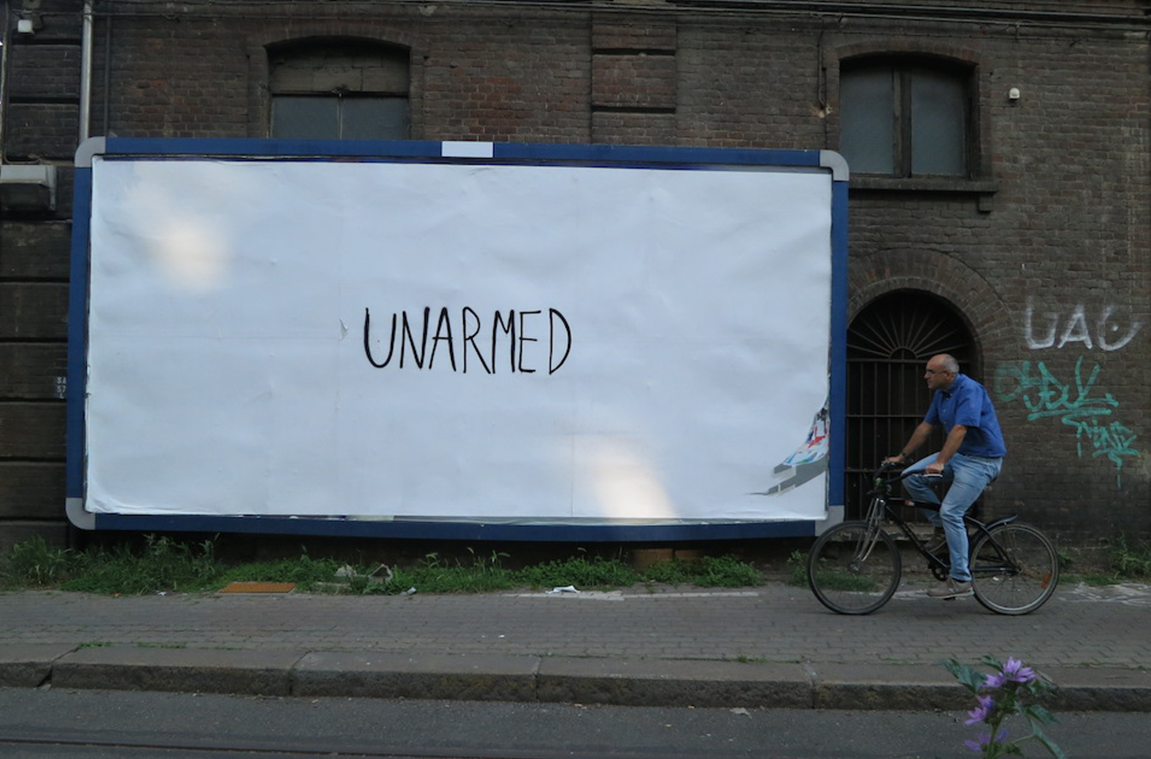 Gallery Exhibition
Addam Yekutieli
Vicariously Speaking
Jun. 21, 2016 to Jun. 25, 2016
Admission is free
Gallery Exhibition
Addam Yekutieli
Vicariously Speaking
Jun. 21, 2016 to Jun. 25, 2016
Admission is free
OZ Art Fest
Addam Yekutieli (aka KNOW HOPE)'s Vicariously Speaking
Israeli-American street artist
Addam Yekutieli (aka KNOW HOPE)
's
Vicariously Speaking
, commissioned by OZ Arts for OZ Art Fest, gives voice to a marginalized population. This project incorporates Yekutieli's correspondences with inmates in Nashville prisons into text-based works extracted from letters, placed on eight billboards throughout the city. 
By taking these phrases out of their original context and placing them in a new one, a newborn presence for the inmates takes place in public space and a dialogue within an interactive environment is created between two separate realities.
The billboard works have been photographed by Yekutieli in the context of their new urban surroundings. These images will be paired in a diptych with the letter from which the featured text originated, and exhibited in the entrance hallway gallery at OZ Arts throughout the festival and the month following. 
As part of phase two of the project, Yekutieli is also seeking volunteers in Nashville to have words or phrases from Vicariously Speaking tattooed on them by the artist himself.
We're looking for people from all backgrounds, walks of life and age, with a preference towards those with no visible tattoos.
The tattoos will be done by the artist, free of charge. The offer stands for a limited time only. Visit This Is Limbo for context and to see past realizations of the project.
If you would like to be part of this, please fill out the form below and include your name, age, occupation and a photo of yourself that you feel represents you best. (If you have tattoos please include photos of them and mention where they are located on the body).
Vicariously Speaking photography and written correspondence exhibition on view at OZ Arts, June 21st – August 31st.
Billboard exhibition on view throughout Nashville, June – July, 2016
1108 Gallatin Ave @ Greenwood St
701 Main St @ 7th St
8th Ave @ James Robertson Pkwy
1000 Charlotte Pike @ 10th Ave
8th Ave Nth @ Wedgewood Ave
12th Ave Sth @ Gilmore St
2504 Franklin Rd @ Craft Brewed
708 Thompson Ln (across from Hundred Oaks Mall)
SCHEDULE OF EVENTS:
Tuesday, 21  |  1 – 2pm
Addam Yekutieli (aka Know Hope) artist talk with OZ Arts Nashville Artistic Director, Lauren Snelling
Vicariously Speaking is supported by the Consulate General of Israel to the Southeast.

---
Performance FAQs
Coming to a performance at OZ Arts? Here's what you need to know!
Where are general admission seats located?
Every seating bank is custom-designed specifically for the production and offers various vantage points. This way, there are no "bad" seats in the house! Open seating enables audience members to select their own seat and make the most of their experience. Our members (The Critic level and above) enjoy reserved seating, designated by black seat covers. If you are interested in joining OZ Arts as a member, please visit our Support page.
What is the dress?
Many of our guests will be in business casual or cocktail attire, however OZ Arts does not strictly enforce a dress code. 
Is this program kid-friendly?
Every program at OZ Arts is vastly different. While our visiting artist programs are not usually designed for children, we have found that many children of varying ages have enjoyed experiencing contemporary art. Ultimately, we encourage parents to do some research and decide if a program matches their child's interests. Of course, feel free to call or email us if you have any specific questions! And, check out some of our education and outreach programs – created just for kids! – on our Education page. 
Where should I park?
For the convenience of our guests, a complimentary valet service is provided for all OZ Arts visiting artist performances (TNTs not included – we will have parking directors to help you safely self-park on those evenings!).
Do you have snacks and/or drinks?
Wine, beer, spirits, non-alcoholic beverages and light concessions are available for purchase at all OZ Arts artistic programs. We regret that bar and concession sales are closed during performances but will reopen post-show (or during intermission, when applicable). The bar and concession area accepts cash and major credit cards.
May I give my tickets away if I am unable to use them?

Giving your tickets to friends, family, or colleagues is a great way to make sure your tickets don't go unused! If you are a season subscriber who has a conflict with a performance, or you just have a last-minute change of plans, you can always give your tickets to someone else. All you need to do is have your guest give the ticketholder's name at the door and they will be admitted.
Brave New Art in Your Inbox
Sign up for email updates and be the first to know when tickets go on sale.
We'll never share your email with anyone.