Storytelling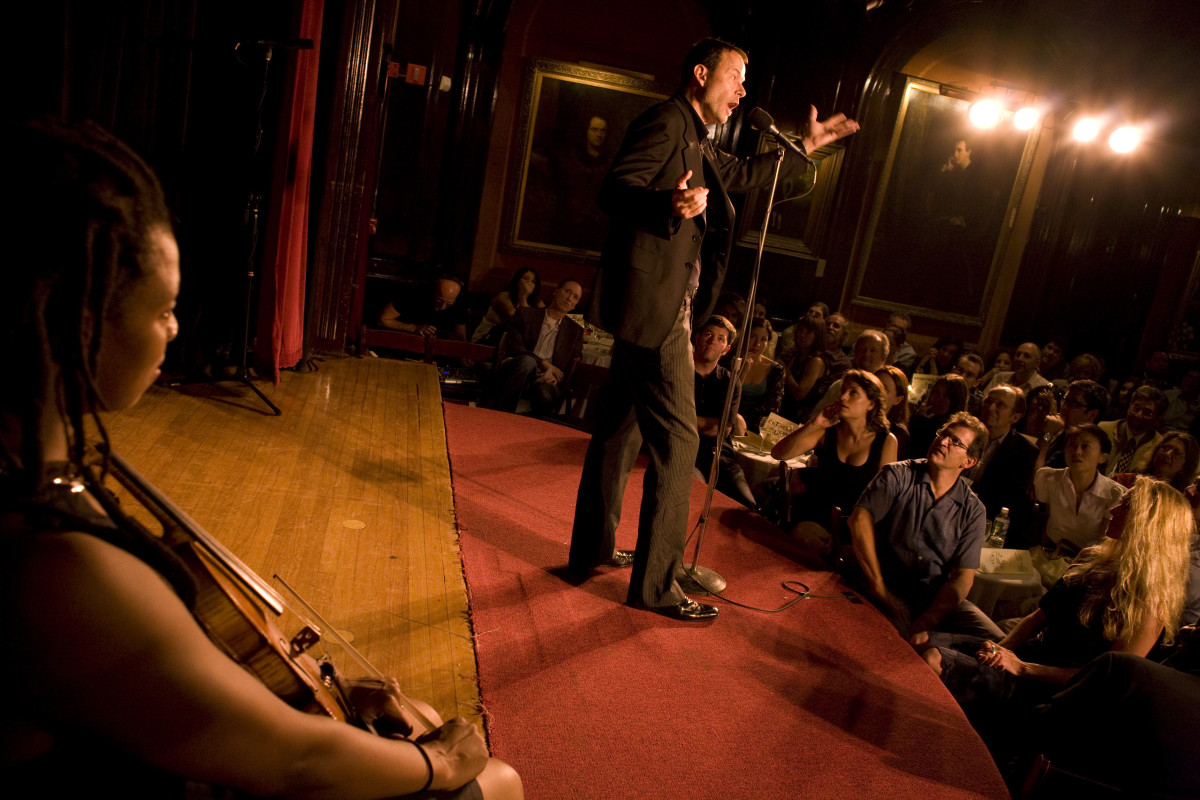 Main Stage
Mike Daisey, Southern Word, and The Moth Mainstage
Speak Easy: A Celebration of the Written and Spoken Word
May 4, 2016 at 7:00 pm
May 5, 2016 at 7:00 pm
May 6, 2016 at 7:00 pm
May 7, 2016 at 7:00 pm
Appropriate for all ages
Main Stage
Mike Daisey, Southern Word, and The Moth Mainstage
Speak Easy: A Celebration of the Written and Spoken Word
May 4, 2016 at 7:00 pm
May 5, 2016 at 7:00 pm
May 6, 2016 at 7:00 pm
May 7, 2016 at 7:00 pm
Speak Easy: A Celebration of the Written and Spoken Word
Mike Daisey, Southern Word, and The Moth Mainstage
Wednesday, May 4, 2016 | Doors at 6PM – Show at 7 PM | "Khan and the Whale: The Wrath of Moby Dick"
90 min / including intermission
Thursday, May 5, 2016 | Doors at 6PM – Show at 7 PM | "Reflecting Nashville"
100 min / no intermission
Friday, May 6, 2016 | Doors at 6PM – Show at 7 PM | SOLD OUT: The Moth Mainstage
150 min including intermission
Saturday, May 7, 2016 |Doors at 6PM – Show at 7 PM| "The Secret History of Music City"
80 min / including intermission
What was is now again! A well-honed skill in letterpress, creating vinyl LPs, knitting or storytelling is to be respected, but each has now returned to hip status. OZ Arts announces a new series for an age-old pastime, featuring writers and storytellers, and including local and national innovators in spoken word and poetry.
American monologist and raconteur Mike Daisey opens the series with an original and must-see. Day Three boasts a premiere with the first ever program of THE MOTH Mainstage in Nashville including five, hand picked, storytellers by NY's finest directors. The series concludes with the return of Mike Daisey and his newest work, created specifically for Nashville and OZ Arts' SPEAK EASY series. Join us each night for the entire series and take home special prizes, reserved only for those with perfect attendance.
---
KHAN AND THE WHALE: THE WRATH OF MOBY DICK
Mike Daisey
"The master storyteller—[Mike Daisey is] one of the finest solo performers of his generation." – The New York Times
Mike Daisey takes on Herman Melville's masterpiece of revenge, fate, and whaling terminology in a hilarious and breathtaking ninety minutes. He achieves this by weaving Melville's epic saga together with the greatest and most perfect film of the twentieth century—STAR TREK II: The Wrath of Khan. Ornate nautical slipknots, space worms that crawl into your ears, tattooed harpooners, and Ricardo Montalban's rich Corinthian leather chest all combine with Melville's gorgeous language to tell a sweeping story of revenge and at what temperature that dish is best served. (Spoiler alert: the answer is "cold". Also, the whale wins.)
Time: 7PM
1 hour, 30 minutes, no intermission
---
THE MOTH MAINSTAGE
[THE MOTH is] "New York's hottest and hippest literary ticket" – The Wall Street Journal
Dedicated to the art and craft of storytelling, The Moth has presented more than three thousand stories, told live and without notes, by people from all walks of life to standing-room-only crowds worldwide. For the premiere performance of THE MOTH Mainstage in Nashville, the lineup will feature all-true stories from tellers both local and from out of state.
Time: 7PM
2 hours, 30 minutes, including intermission
---
REFLECTING NASHVILLE
Curated by Southern Word
Southern Word assembles an intergenerational cast of Nashville's top writers and storytellers for an evening of honest insight, musing, and commentary on our city in flux. Known for developing young writers that bring Nashvillians to their feet, this will be Southern Word's third ensemble production that captures the city at a specific point in time.
The Spoken Word Census commissioned pieces to serve as a qualitative, literary census of Nashville in 2010. In 2012, more than 70 writers projected the future of Nashville in the seven-performance Future Break series. For one night only, Reflecting Nashville will continue this compelling blend of emerging writers, established literary voices, and unexpected cameos; a diverse combination that is truly local and truly Nashville.
Time: 7PM
1 hour, 40 minutes, no intermission
---
THE SECRET HISTORY OF MUSIC CITY
Created and Performed by Mike Daisey
Mike Daisey's extemporaneous monologues skewer, illuminate, and ultimately celebrate our world with equal parts humor and heart. On the final night of OZ Arts Nashville's inaugural SPEAK EASY series, Daisey deftly delivers our own city back to us with no holds barred. In The Secret History of Music City, Daisey will tell a story of the singular city of Nashville—of old dreams gone wrong, of the little known origins of hot chicken, of the loud ghosts that haunt the Grand Ole Opry. Fact and fiction fuses with myth and reality to tell how country music came to be, and the city that grew up with it.
Time: 7PM
80 min, including intermission
---
Performance FAQs
Coming to a performance at OZ Arts? Here's what you need to know!
Brave New Art in Your Inbox
Sign up for email updates and be the first to know when tickets go on sale.
We'll never share your email with anyone.