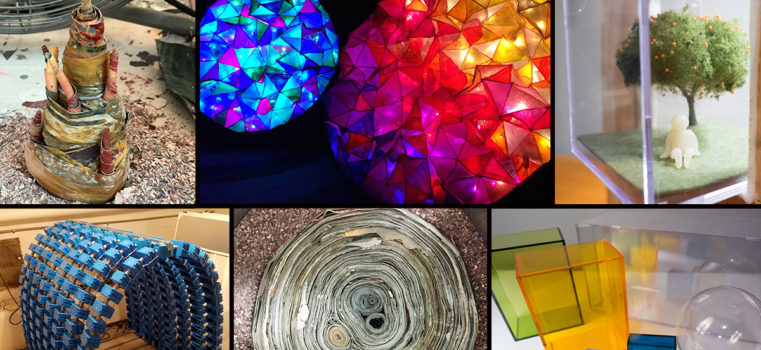 OZ Art Fest
TNT | Tony Youngblood's Modular Art Pods
Check out what Nashville Arts had to say about the Modular Art Pods Project!
"When everybody's talking about the crawl at the drinking fountain on Monday morning, they'll undoubtedly be talking about the Modular Art Pods installation…"

– Nashville Scene
As a follow up to the wildly successful, one-night collaborative installation curator Tony Youngblood assembled at Abrasive Media in February 2015, OZ Arts is proud to present a reimagined installation of Modular Art Pods. Described as a "gallery tunnel," MAPs captured the imagination of young and old, as each attendee crawled from one 4'x4' cube to another, the interiors of which represented an immersive view into an individual artist's mind. The structural parameters for each artist to create his/her own individual "pod gallery" remain, however this time sizes will vary and the audience will be given a set of rules for engagement. In addition to the interactivity inherent within each pod, audiences will be given multiple opportunities to "choose their own adventure" within the journey through over 50 unique pods, each designed and constructed by a different artist or collective.
MAPs TIMES & PRICING:
Tuesday, June 21 – Free Admission
11:00 – 8:00 p.m.  |  MAPs
2:00 – 8:00 p.m.  |  MAPs Performances
Wednesday, June 22  – Free Admission
11:00 – 8:00 p.m.  |  MAPs
2:00 – 8:00 p.m.  |  MAPs Performances
Thursday, June 23
11:00 – 5:00 p.m.  |  MAPs and Vicariously Speaking | Free Admission
1:00 – 2:00 p.m.  |  Artist Talk: Paul Burch, Brooke Waggoner & Eric Hillman | Free Admission
5:00 – 6:00 p.m.  |  MAPs CLOSED
6:00 – 9:00 p.m.  |  TNT feat. Tony Youngblood's MAPs. (Most if not all of the artists and creators will be present at this time.) | $15 for Adults/Under 12 Free
Friday, June 24 – $20 for Adults/ Under 12 Free
-$20 ticket covers both Friday & Saturday admission-
11:00 – 9:00 p.m.  |  MAPs
2:00 – 8:00 p.m.  |  MAPs Performances
Saturday, June 25 – $20 for Adults/ Under 12 Free
-$20 ticket covers both Friday & Saturday admission-
11:00 – 9:00 p.m.  |  MAPs
2:00 – 8:00 p.m.  |  MAPs Performances
Pod Makers
Performers:
Sponsor a Pod
OZ Arts is giving individuals, organizations, and businesses the opportunity to support the Modular Art Pods installation.
Modular Art Pod Sponsors
Generously Supported By:
Jeffrey C. Lynch
The Home Depot 100 Oaks
Thomas and Patricia King
Pod Sponsors:
Leslie Boone
Gail Danner
Delevante Creative
Patricia M. Farr
John Holleman
Gavin Ivester
Pamela Johnson
Jenny Alexander
Andrew Burd
Colin_circuit_bender
Stephanie and Forrest Conner
Kristy Edmunds
Fivestone Studios
Christa George, Chris Wood, Zoe Wood
Alp Ikizler
Rozmond Lewis
Helga and Andrea Maneschi
The Red Arrow Gallery
Mclaine Richardson | Margaret Ellis Jewelry
Andee Rudloff
Rus and Lauren Snelling
Sarah Toyoda
Diana Johnson Wiles
Wayne and Phyllis Youngblood
Details about Modular Art Pod Sponsorships
TNTs supported in part by the Tennessee Arts Commission
---
Performance FAQs
Coming to a performance at OZ Arts? Here's what you need to know!
Where are general admission seats located?
Every seating bank is custom-designed specifically for the production and offers various vantage points. This way, there are no "bad" seats in the house! Open seating enables audience members to select their own seat and make the most of their experience. Our members (The Aficionado level and above) enjoy reserved seating, designated by black seat covers. If you are interested in joining OZ Arts as a member, please visit our Support page.
What is the dress?
Many of our guests will be in business casual or cocktail attire, however, OZ Arts does not strictly enforce a dress code. 
Is this program kid-friendly?
Every program at OZ Arts is vastly different. While our visiting artist programs are not usually designed for children, we have found that many children of varying ages have enjoyed experiencing contemporary art. Ultimately, we encourage parents to do some research and decide if a program matches their child's interests. Of course, feel free to call or email us if you have any specific questions! And, check out some of our education and outreach programs – created just for kids! – on our Education page. 
Where should I park?
For the convenience of our guests, a complimentary valet service is provided for all OZ Arts visiting artist performances (TNTs not included – we will have parking directors to help you safely self-park on those evenings!).
Do you have snacks and/or drinks?
Wine, beer, spirits, non-alcoholic beverages, and light concessions are available for purchase at all OZ Arts artistic programs. We regret that bar and concession sales are closed during performances but will reopen post-show (or during intermission, when applicable). The bar and concession area accepts cash and major credit cards.
May I give my tickets away if I am unable to use them?

Giving your tickets to friends, family, or colleagues is a great way to make sure your tickets don't go unused! If you are a season subscriber who has a conflict with a performance, or you just have a last-minute change of plans, you can always give your tickets to someone else. All you need to do is have your guest give the ticketholder's name at the door and they will be admitted.